Does your skin feel drier and more sensitive in the winter? I know mine does. It's already sensitive as­ is; but with the harsh winds and drier air, my skin ends up feeling parched. It's the worst on my face. I can cover up the rest of me before I step out into a snowstorm, but my face will still get the brunt of it. It's especially dry on my cheeks and around my nose; this is skin that is particularly thin and susceptible to redness and irritation. For those times that you need something to calm the skin on your face, Eminence has got you covered. Eminence Organics has a Calm Skin line of face products that can help bring back your summer skin!
Eminence Organics Calm Skin Line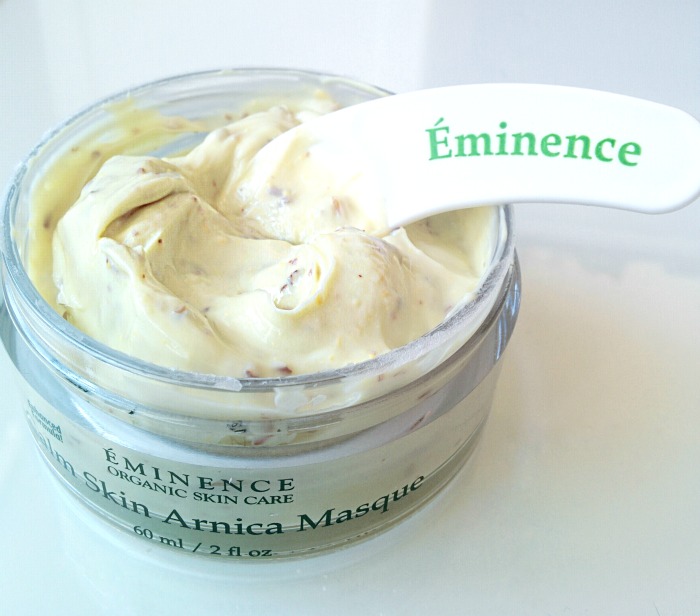 After cleansing, you can choose to tone and/or exfoliate. I find that those two steps are usually overkill for my face and I end up with pretty damaged skin and am more prone to breakouts. Instead, I go straight to the masque (on a weekly basis). The arnica masque contains marigold and ivy alongside arnica to help minimize redness and reduce inflammation. Marigold is known to be an anti­irritant and anti­septic while ivy is an antioxidant. In addition, Eminence also put in shea butter and witch hazel to really soothe, moisturize and repair. Using the little scoopula, you want to put a bit into your hand and mix it with water. Then, you apply the masque evenly over your face and if needed, your neck and décolleté. Let the masque soak in for 5­ – 10 minutes and when use a face cloth to gently scrub off the masque. Then, rinse with water. My skin ends up feeling rejuvenated. Again, I only use this once a week because it can feel a bit intense. Plus,who has time to put on a mask everyday?!
Continued…
Share on social: