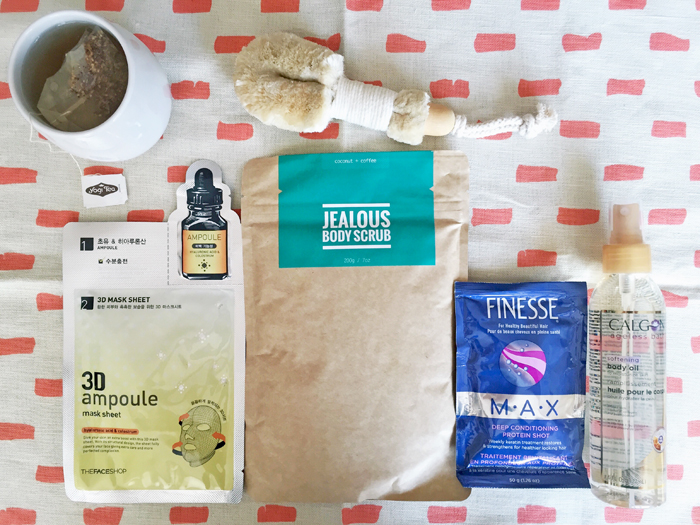 I used to love doing weekly home spa treatments, starting with dry brushing and ending with a DIY face mask while enjoying a nice cup of herbal tea. This rejuvenating weekly ritual of mine helped me reflect on the past week and start a new week positively. Then life happened, things changed, and I became a coffee addict who had no time for any of the above. Herbal teas vanished from my life; I was always stressed out and needing more coffee. Then one day, it hit me. I didn't like the stressed and worn-out version of me. I wasn't even being productive, and the stress was manifesting itself on my body in a variety of forms including skin problems. That was when I realized that I needed to spend some time to relax and to take care of myself to feel more positive, energized, and productive.
Enough of my story. The point I'm trying to make is that taking time to take care of yourself and your well being is important. All those who are currently not liking their stressed out, exhausted selves, I highly recommend sparing a little bit of time for home spa treatments. It can be as simple as taking a quick hot bath, putting a sheet mask on, or incorporating a hair treatment into your weekly routine.
I've picked out my current favourite products for a relaxing home spa treatment. I hope you will find this list helpful!
I like to apply a hair mask product while the scrub is resting on my skin. That way, I can rinse off both products at the same time (still thinking about being productive when I am supposed to be relaxing)! I recently tried the Finesse Deep Conditioning Protein Shot (available at walmart), which is a weekly deep-conditioning treatment that is designed to restore and to strengthen the hair from the cuticle to the inner structure. With one application, my hair felt much smoother and less frizzy. I love the individual packet for one-time use; it's perfect for traveling! The packet contains quite a bit of product, which was enough for two applications for my long and thick hair.
After a quick hot bath followed by the body scrub, the moisture must be sealed in with a good body oil. I'm currently using Calgon's Ageless Bath Body Oil ($6.99-$8.99/177mL – also at walmart), which has been my go-to summer body oil. Formulated with Calgon's exclusive Vita-Pearl Technology, it contains pearl powder, collagen, and vitamin E to help relieve dryness and to boost moisture and glow. It comes in a spray bottle, so it's super easy to use. It is quite strongly fragranced, but I actually really like its invigorating scent. This fast-absorbing, lightweight oil doesn't make my skin feel sticky. It leaves the skin velvety soft and is certainly worth its price! For colder and drier months though, I will need another moisturizer on top of this oil because my skin gets extremely dry.
Share on social: