I am a huge fairy tale buff so I'm loving this trend towards the modern day fairy tale such as shows like "Once Upon A Time".
I haven't seen it yet but the Disney adaptation of the Broadway hit "Into The Woods", a contemporary Cinderella story, stars Anna Kendrick. I've always been a fan of hers but she TOTALLY impressed me in Pitch Perfect which is a movie I'm sure will be up there with "Clueless" in terms of girly classics 😉
The beautiful and talented actress graces the February 2015 cover of FASHION Magazine which hits new stands and your ipad January 12th.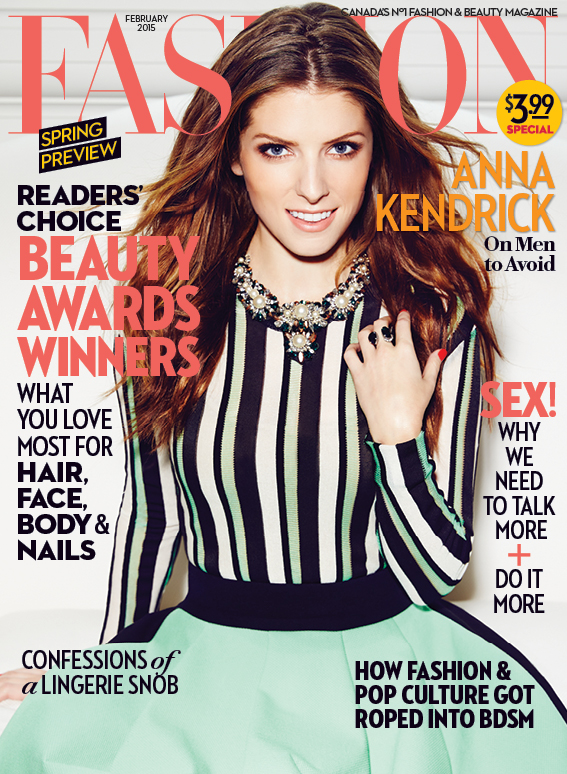 Check out some excerpts from her interview:
On the prince in Into the Woods:
The idea that Cinderella gets cheated on by her prince is the most twisted and genius concept.
On finding – or not finding – her Prince Charming:
The wrong kind of guy to fall in love with is the guy who will let go of the steering wheel as a joke. A guy who finds it amusing to make you uncomfortable – which is more common that you'd think – is someone you want to avoid.
On her parents' divorce:
They taught me that staying together for the kids is the wrong approach. It perpetuates this warped idea of what a healthy relationship looks like.
On her passion for musical theatre:
Any kid who has a weird specific thing they're into is kind of blessed. There's value in having your own geeky interests, because otherwise you might as well just talk about what's on Oprah's Book Club.
On finding herself through fashion:
I was trying to fit the ingenue role for a while. I've recently decided that there's no point [in boxing myself in] if I'm not having fun.
Cover: Photographed by Max Abadian; styled by Zeina Esmail;  Top + skirt –  Fausto Puglisi; necklace – Shourouck; ring – Rebekah Price; Hair byCraig Gangi for Exclusive Artists/Oribe Haircare; Makeup by Toby Fleischman for TMG-LA.com/Charlotte Tilbury; Manicure by Leanne Colley for P1M.ca/Tips Nail Bar;  Fashion Assistant, Eliza Grossman. Shot on location at the residence of Joe Brennan and Daniel Greenglass. // Inside Image: Dress – Cushnie et Ochs; earrings – Dannijo (Holt Renfrew).
For her entire interview visit fashionmagazine.com.
Are you an Anna Kendrick fan?
Share on social: