Beauty isn't always about perfection. In fact it's the imperfections that make us each unique and beautiful! In our quest to achieve certain looks, trends and moods it can sometimes be hit or miss. I asked the team to share one of their amusing beauty blunders – can you relate to any of them?
Joanna:
What really sticks out to me, is the "skater girl" black eyeliner phase I went through in my first year of high school. I was finally allowed to wear makeup, so this was an opportunity I was not going to waste! Back then, there weren't any famous vloggers who uploaded tutorials on different makeup looks — just me and my smudgy black pencil left to fend for ourselves!
Laura:
I think my biggest
beauty
blunder
has to be falling victim to my tweezers!!! I totally went through the phase of misshaped  and brows that were WAY too thin;  At one point they were close to looking like frowns LOL! But alas I allowed them to grow back in my late teens and had them reshaped by a pro. Thank goodness I'm much wiser today 😉
Sohnee:
I've never worn fake nails before. When I was invited to attend an event about fake nails, I was excited to learn something new. It turns out that some people just aren't meant to use them. I was told at the event to use lots and lots of glue. They forgot to mention that this is SUPERGLUE and will stick to anything.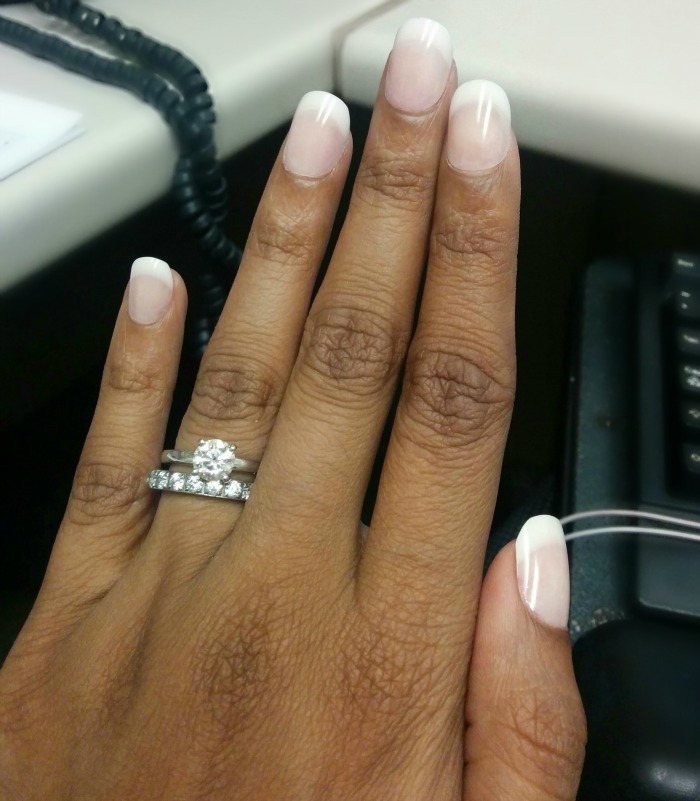 After detaching my glued together fingers, I managed to get all of these nails on. They felt kind of weird, but I was getting used to it. I went out to brunch the next day and came home with TWO NAILS MISSING!!! I can only hope no one else at that brunch noticed. How embarrassing!!
Tanya:
My eyebrows are thin from over-plucking back in my high school days so I was ecstatic to find a product that came with shadow, brushes & stencils! The problem was…I was so excited to find a fantastic new product that I made a rookie mistake and didn't experiment with it first.  I had an event to attend that weekend and I decided to use the kit for the first time and debut my new look. That was the night I earned the nickname 'Angry Eyebrows' for the rest of the evening.  I had applied my eyebrow shadow too heavily and used the wrong stencil. Lesson learned: test new products out (especially once I don't know how to use) first!
Alysia:
I love matte lipsticks but sometimes it's really hard to remove them from your lips. I tried with a wet tissue and then a facial wipe but the tissue flakes and the wipe leaves a weird taste on my lips.
I figured that coconut oil would do the trick and it did but it leaves quite a mess. I wouldn't really call this a
blunder
, it's more of a blooper. A definite sign for me not to use as much coconut oil and not to rub it too much and all over my face!
CL:
Recently, I was feeling a little nostalgic and decided to flick through my old photo albums. When I saw photos of me from grade 10, I was so shocked that I almost dropped the album! There I was in all those photos with EXTREMELY thin, overly-tweezed eyebrows. I mean, I do remember those days and the fact that the uber-skinny, highly-arched brows were the trend then. But I had totally forgotten about how thin my eyebrows actually used to be during that one year of my life, especially because I quickly started becoming obsessed with making them look fuller again. Now, I can't help but wonder if all the tweezing and plucking I used to do back then had contributed to my brows becoming thin. I'm still obsessed with making my eyebrows appear as thick and full as they can be! You can read about my obsession
here
.
Elaine:
When I first started to wear eyeliner it made me feel very grown up and glamorous. As a kid I subscribed to the philosophy of "more is more" and would wear really thick liner on my top lid and COMPLETELY lined the bottom lid of my eyes.
In my head I looked like the ladies from Dynasty, when in reality I looked like I was going out for Halloween! Luckily, I started paying more attention to makeup techniques and taking in practical tips from shows like Cityline and learned that more often than not "less is more".
 Now it's YOUR turn! What's your biggest or funniest beauty blunder? We want to know!
Share on social: