Can you believe Christmas is almost here? Whether you celebrate or not, most people are out picking up the perfect gift for that special someone and sometimes it's nice to add a "bonus" gift to the mix! I'm a big fan of beauty stocking stuffers since they're a great way to gift someone something luxurious but still within a reasonable budget!
By far one of my favourite stocking stuffers are eos lip balms. The colourful little spheres are so adorable – they are little balls of happiness!
This limited edition holiday 2015 pack of 3 is the cutest thing ever…the kit includes jeweled art stickers so you can customize your lip balms! Brilliant right? I've seen them readily available at mass drug stores from about $10 – $14. The flavours include Sweet Mint, Pomegranate Raspberry and limited edition Vanilla Bean.
If you've got a little more room in your budget then I would HIGHLY recommend picking up the Too Faced Le Petit Trésor limited edition collection.
It retails for $42 CAD (I've seen it for less on US sites) but comes with 3 full sized La Crème Lipsticks in a glittery pouch. The pouch itself is exclusive to this kit and has a cute little Eiffel Tower on the zipper pull.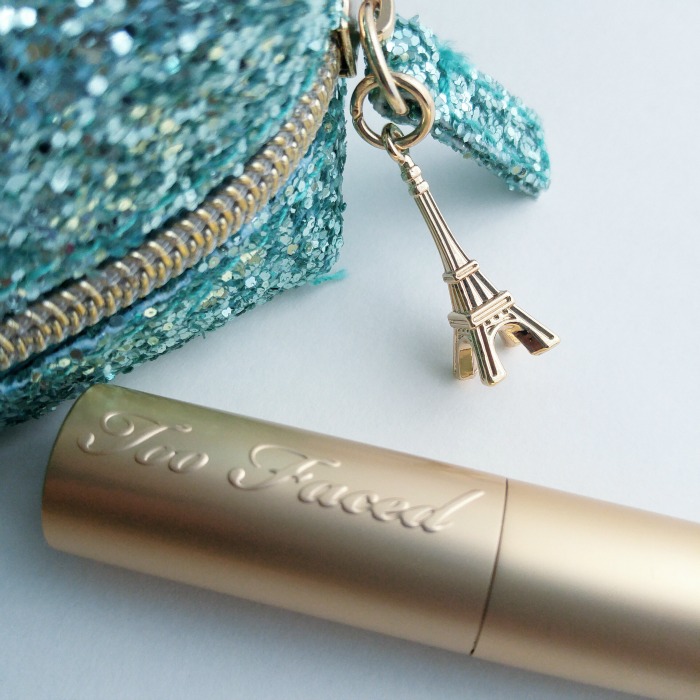 The lipstick themselves are GORGEOUS! They are so creamy and glide on like butter! As I read the back of the box  the kit comes in, I'm seeing that they're made in Canada too! Bonus!
Taffy // Nude Beach // WHAM!
It might be a little pricey for a stocking stuffer but you're guaranteed to make someone REALLY happy!
Other beauty stocking stuffer ideas I would recommend:
What beauty stocking stuffers would you recommend? I'd love to hear your suggestions too!
{Shop This Story}
Share on social: