I'm all about the easy to use products and one I've been reaching for a lot lately is this BB cream for eyes – Benefit Air Patrol.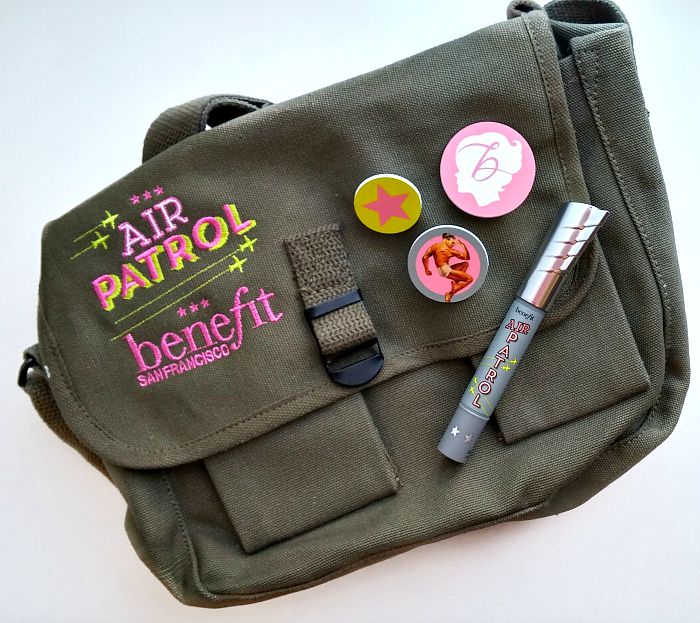 Let's blame it on lack of sleep, or perhaps just regular ol' aging – but the skin around my eyes has been looking  dark and tired. To combat this issue, the lazy girl in me has been dabbing my beauty blender sponge over my eye area after I'm done applying my foundation. The remnants of  makeup left on the sponge did a good job of evening out the skin tone around my eyes and blending it into the rest of my skin.
Here's the problem though: by midday the foundation had creased on my lids – which was not a great look! Thankfully Benefit Cosmetics recently sent over their newest product "Air Patrol" ($38, out this month!) to test out.
The Benefit Air Patrol is a BB cream eyelid primer that also protects your delicate eye area from sun and pollutants! Since it's a primer it obviously holds eye shadow in place but it also hydrates and –  most importantly for me – colour corrects. It contains an SPF of 20 and shea extract to nourish the eye area too. For this reason I'm also going to add this to a new favourite multi-tasking sunscreen of mine!
The applicator tip is very unique too – it's spongy and bouncy like – it's also very soft! In fact, it was inspired by gel foam mattresses and pillows that bounce back on their own. It was designed to be pressure free and to apply the product to the eye area without pulling.
I LOVE how this product evens out my eye lids and also underneath them too. I don't use this as a concealer but I do use it close to my lower lashes where my eyes are always pink and red due to chronic dry eyes. You don't need very much of the product at all. The instructions say to "click" the tube once to dispense enough product for one eye – so 1 click per eye. I personally found this to be WAY too much product, so for me, 1 click was good for both eyes. Which is great because this means I'll go through less product and it should last me twice as long!
I also personally prefer to apply the product to the back of my hand, then dab it onto my lids and eye area with my fingers. I found the applicator tip difficult to work with; it didn't spread the product evenly, and I found that after using it and putting the cap back on, product caked onto the applicator which made it difficult to apply the next time. If you ARE going to use the applicator I suggest you wipe off excess product first before snapping the lid pack on. Another point I want to make is that this product only comes in 1 colour; so while it works well for my skintone it may not for may others.
Overall I LOVE this product. I've been using it daily and plan on taking it with me on vacation when I'm sure the flight will do a number on my eyes  – so glad Benefit Air Patrol is coming to my rescue!
Do you use an eyelid primer? Tell me which one is your favourite and let me know if you'll be giving the Benefit Air Patrol a try!
{Shop This Story}
Share on social: