The countdown to Valentine's day is on – and this year since Valentine's falls on a Saturday I think date nights will be extended over the entire weekend!
My favourite makeup and hair artistry team – Blush Pretty – will be holding a "Cupids and Cupcakes" event in honour of Love day weekend.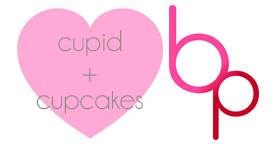 Dedicated to making everyone's Valentine's a beautiful one, the talented artists of Blush Pretty will be on hand February 13, 14 and 15 to pretty you up with multiple services at special rates.
Whether you want a smokey eye, a soft romantic hair sweep or just a brow touch up they've got you covered.
Here are the services available:
the perfect brow
clean up the brows and fill them in
$12+HST

the smokeshow face
flawless skin and a smokey eye
$35+HST

the kissable lips
flawless skin and a bold lip
$30+HST

the touchable wave
hair left long, loose, and wavy
$45+HST

the romantic sweep
hair softly swept up and off the face
$55+HST
Bonus: there will be cupcakes and champagne on hand too!
The Blush Pretty studio is located at 777 Richmond Street West suite 2023 in Toronto. For more information check out their website. To book your appointment for this special Blush Pretty event call 416.727.1754 or shoot them an email at beautymail@blushpretty.com.
(If you book let me know – I'll see if I can stop in and say hi!)
Share on social: