Her work graces the runways and we all swoon at her chic, fun and edgy designs. Well, now you can try , your hand at creating your own versions of her wondrous work with the Rita Remark Limited Edition Holiday Kit from Essie.
Included in the kit are some of Essie's iconic shades;  ballet slippers, mind your mittens, cocktail bling, a-list and rock at the top.
Wear each color alone for minimalist sophistication, or jazz  up your nail game following some of her cool tutorials online.
The possibilities are endless:  a fresh, well done manicure is the cherry on top when it comes to looking primp and "polished"—excuse the pun!
Each bottle comes in a 5ml mini size – compact and perfect to fit in a clutch or large wallet. What I love about the little sizes is that you can experiment with colors and try out new looks, without the feeling that you "won't be able to use the entire bottle before it dries." I find this often with colours I like to use as accents.
This lovely kit is available now at a suggested retail price of $17.99 CAD for a limited time only. Apparently, the US version is slightly different (has one less polish!) and looks like this: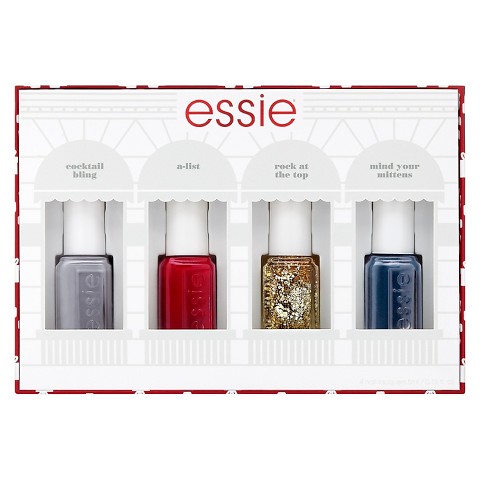 Now is the time to pick one up for yourself and maybe a friend or two? If you are traveling or still have a few events to attend, make your nails the talk of the party.
I cannot wait to grow my nails a little a try some of Rita's fabulous designs, maybe even coordinating some to my favourite holiday outfits?
Whatever you decide – you cannot go wrong with some of Essie's most popular, classic shades. Mix and match to your heart's desire! I really have my eye on that cocktail bling.
Will you be adorning your nails this year with this Essie limited edition holiday kit?
{Shop This Story}
Share on social: