I have been obsessed with my lashes lately. I wear mascara daily but there isn't just one mascara out there that can give me the lashes that I really want. I've also tried fake lashes in the past (see a makeup lesson here and a beauty look here), and have also done the lash extension thing (with Sweet Grass Spa Here and with Flirt Custom Lash here).
Although I liked the results of both options, they didn't really work for my lifestyle. Fake lashes are just a pain for me to apply and lash extensions are hard for me to maintain and upkeep since I'm constantly testing out eye makeup products.
As you may recall, I visited Beauty Room recently for a Lash Lift service and I'm now addicted! On that visit I also purchased a product called EyEnvy which I first heard about from my friend Lucky. And let me tell you – I've found the REAL secret to lush lashes!
EyEnvy is a serum that can be used on the lashes and the brows to lengthen and create more fullness. The serum contains a number of ingredients to help condition, strengthen, and repair damaged hairs; plus it offers many other benefits.
Here is the full list of ingredients from the website:
Aqua/Water, Glycerin, Sympeptide 226 EL, Hydrolyzed Glycosaminoglycans, Sodium Hyaluronate, Palmitoyl Pentapeptide –4, Yeast Extract, Chamomilla Recutita (Matricaria) Flower Extract, Hexapeptide – 11, Arcyostaphylos Uva URSI (Bearberry) Leaf Extract, Retinyl Palmitate(Vitamin A), Vitis Vinifera (Grape Seed Extract), Panax Ginseng Root Extract, Niacinamide (Vitamin B3), Magnesium Ascorbyl Phosphate (Vitamin C), Tocopheryl Acetate (Vitamin E), Sodium Lactate, Sodium PCA, Hydroxyethylcellulose, Polysorbate 20, Proline, Methylisothiazolinone, Phenoxyethanol, Panthenol (Vitamin B5), Sorbitol, Triethanolamine
It's quite easy to use. The brush is similar to a thin liquid liner brush and all you do is apply it to the lash line every morning.
At first I was quite doubtful that it would work, but after seeing the results on Lucky and a couple of other friends, I decided to give it a shot. I started using it in December and after about 5 weeks I saw a difference; my lashes were longer and I had more of them. I was applying the EyEnvy at my lash line, including all the way to the inner corner of my lashes. I started to notice long hairs growing right in the corners that actually became kind of annoying! I've since stopped applying the product all the way to my inner corners; but the point is that this stuff WORKS!
Over the last few weeks so many people have been commenting on my lashes asking if I was using lash fillers…including Grace Lee, Maybelline NY Canada's lead makeup artist, when I saw her at fashion week! That's when you know it's working 😉
Here is a photo of my lashes in December. The first is a before, then when I had my lash lift and then after using EyEnvy:
I'm not sure if you can tell that my lashes are longer in the photo, but they are definitely fuller. I wouldn't say my lashes are thicker, but I just have way more of them so the overall look is more dramatic. You may be able to see my lower lashes are bit longer too – I've recently started using the EyEnvy on my lower lashes as well.
Here's a side view of my lashes that shows the length better: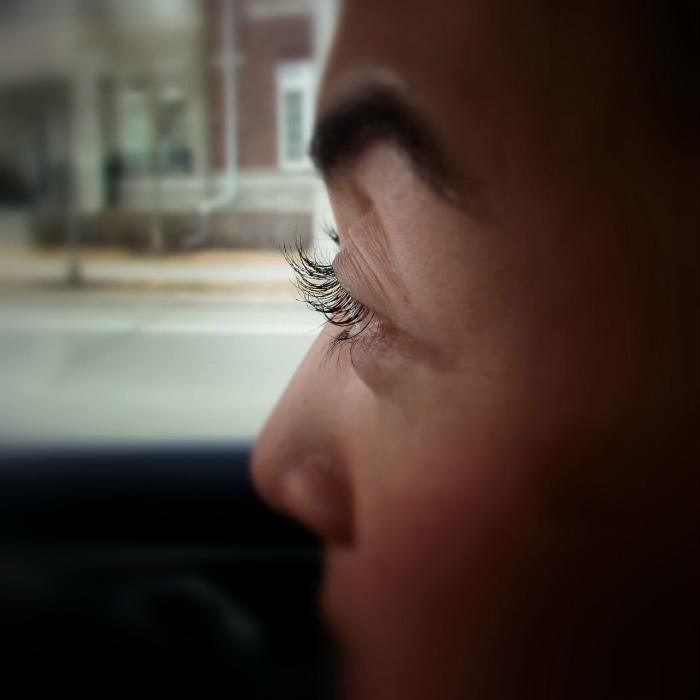 I absolutely LOVE this product and I am now a believer. It's definitely pricey though – about $95. OUCH! But….the results speak for themselves and formula remains active for 9 months once the tube has been opened.
I purchased my tube of EyEnvy through Beauty Room located in Liberty Village. You can check out the website to find a retailer near you.
So, what are your thoughts on EyEnvy? Would you be willing to give it a try?
Share on social: