With so many skincare products out there on the market it can be hard to sift and filter through them all. Luckily Sohnee and Alysia have both been helping me with skin care testing. Read on to find out more about Sohnee's Filorga Skin Care review.
*****
I spent a week in Paris this September and saw this brand in the window of every pharmacy on every street corner. It seems to be a famous and popular brand overseas that is now in the North American market.
Filorga started in France over 30 years ago and looks to be the secret to French women's gorgeous skin! I got to try two of their products and honestly, my skin has never looked better!
I usually need to get a facial once every few months since it can look dry in spots, flaky, and I'm also prone to breakouts. Since adding Filorga to my regimen, I haven't needed to book a single facial!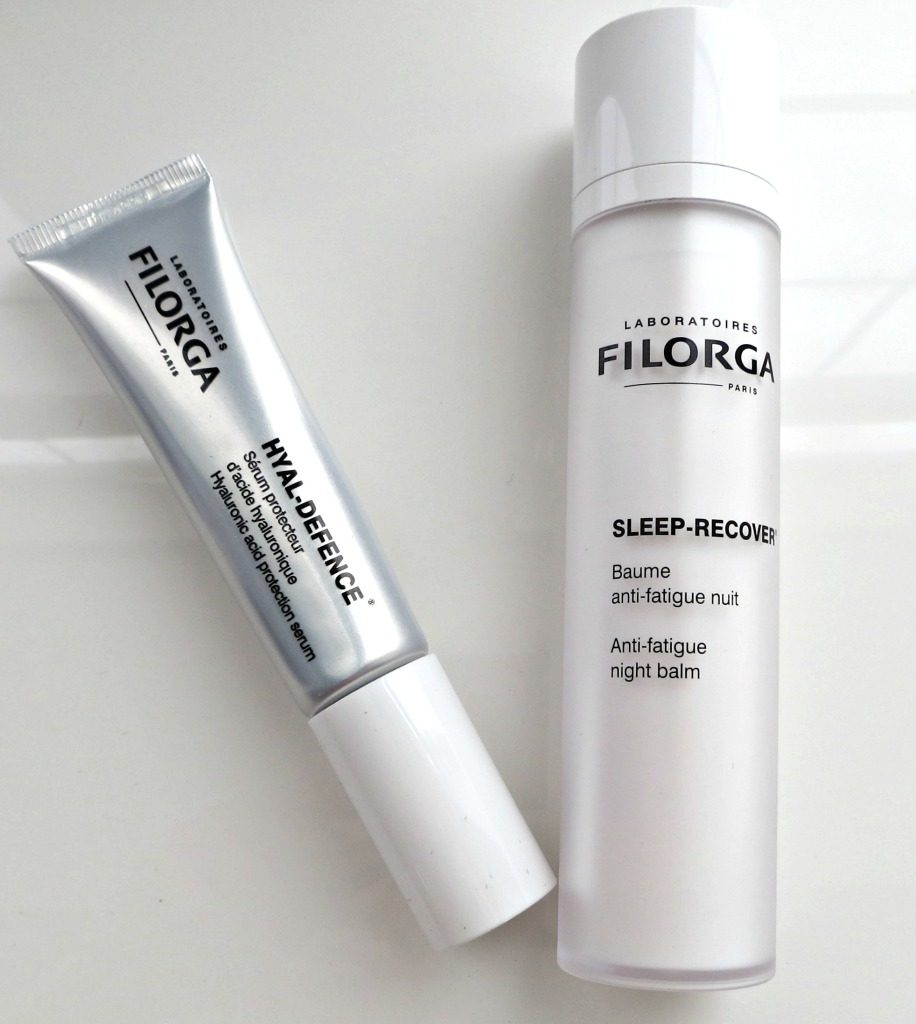 Filorga specializes in 'anti-aging cosmetics' and was founded by a physician in 1978 who started the trend of using injectables to improve the look of skin. Over time, they started to branch out into techniques and formulas for spas. In 2007, they launched their non-surgical, anti-aging, over-the-counter cosmetics line. While they continue to be the leaders of surgical interventions for skin rejuvenation, I'm glad that I got to try out their non-surgical options. I love having clear, smooth skin, but keep the needles away from me!
The first thing I started to use is the Hyal-Defence hyaluronic acid protection serum.
I put this on my face before I use my regular face cream, both in the morning and at night. The serum itself feels very light, almost like water, on my face. It gets absorbed very quickly and I find that it makes my skin appear softer and more radiant.
I've incorporated their Sleep-Recover anti-fatigue night balm into my nighttime routine.
I wake up with the bags under my eyes looking smaller, less darkened, and I look overall more awake.The best part about these two products has been two-fold: 1. My skin is glowing without lookingoily; 2. I haven't had a breakout once since using them! My skin is really sensitive and I have to be very careful with what I put on my face. I haven't noticed any unusual changes in the feel or look of my skin (no weird rashes, lumps or bumps), which is always a risk when trying a new product.
While these are considered to be anti-aging products, I don't think this should be reserved for older people. I'm nearing the end of my 20s and love getting a headstart on maintaining good-looking skin.
Filogra Skin Care products are available at The Shopping Channel.
What are your favourite anti-aging products?
Share on social: