I always like the opportunity to try a new hair product, as I have a very thick mane and it often dries out, especially at the ends. The Garnier Fructis Full & Plush collection  is great because it promotes volume (the more the better I say!), as well as adding shine, nourishment, and smoothing the ends.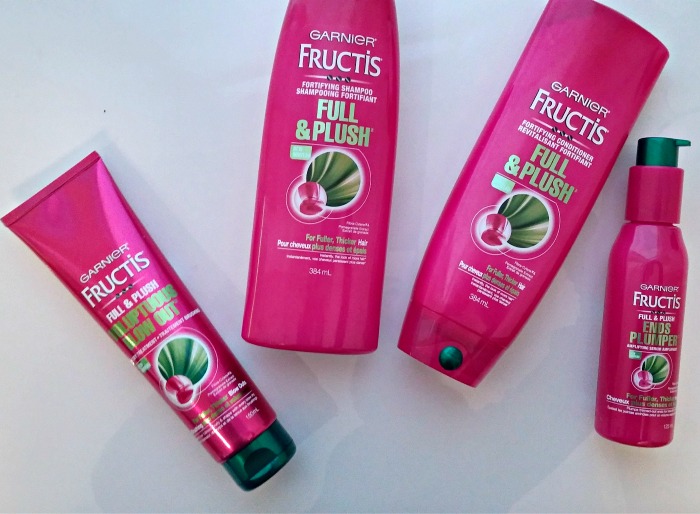 The Garnier Fructis Full & Plush line is formulated with Fibra-Cylane, pomegranate and active fruit concentrate. It's designed to make hair feel thicker, provide an overall fullness and keep hair bouncy and soft while still letting it move freely.
Healthy hair starts right when washing it, so naturally I started with the shampoo followed by  the conditioner. It really made my hair silky soft!
Afterwards I applied the Voluptuous Blow Out Blow Dry Treatment which served to enhance the shine while protecting my hair from heat before styling.  It also helped to tame fly-aways without making it greasy. Finally, I finished my hair off  with the Ends Plumper Amplifying Serum and I was good to go! Voluminous, shiny and soft hair!
Another thing I'm in love with? The scent – like fresh fruit on a summer's day!
The Garnier Fructis Full & Plush collection can really enhance (and tame) your hair, turning it into gleaming, thick tresses. It's available at Shoppers Drug Mart and Walmart.
Do you like a lot of volume in your hair do? 
Share on social: