It's the time of season for brighter nail colours! Even if you're into more subtle colours like I usually am, it's nice to just go with a slightly brighter hue to play off bronzier skin. But brighter hues means your nails need to be in tip top shape in order to pull them off.
I wrote about Dutch Nail Line Trind last year.  There's a whole array of beautiful and shiny colours to choose from but I think what stands out to me most about this line is the nail care products.
The Kertatin Nail Restorer combined with the Nail Balsam are the keys to getting healthier and stronger nails. Often times it's the lack of hydration that can lead to brittle nails or nails that peel – and I'm sure you know just how difficult it is to apply polish on nails that aren't strong and smooth! I'm terrible at applying nail polish as it is but when my nails aren't in good shape it's 10x worse!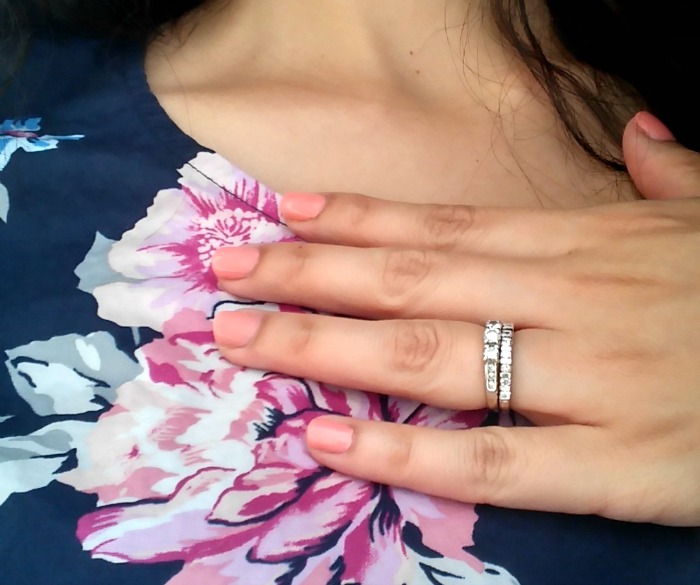 Here I'm wearing "Mighty Macaron". It's a pretty coral/pink colour that actually looks more vibrant in real life. I have a slight tan and I love how this colour just brings out the warmth of my colour!
If you've never tried out the Trind Nail Care line before it's a great time to check it out since I have a promo code available:
To take advantage of this buy 1 get one free offer use the promo code: CARING2FOR1 on www.trind.ca! The promo code is good until July 31, 2015.
If you want to show off your new, healthier tips share on twitter with the hashtag #TrindNailTips.
Here's to healthier and happier nails!
Share on social: