In the spirit of Halloween I decided to host a Halloween Playdate with my daughter Sam and 3 of her girlfriends. The little ladies would be enjoying an afternoon of mani/pedi's, getting their 'hair did' and stuffing their tummies with Halloween goodies! Now, at home mani/pedi's for 4 pre-teen girls who can't sit still is not my idea of fun. So it was Broadway Nails – imPRESS Press-On Manicure sets to the rescue! Offering a wide variety of really cool, bright, fun Halloween themed manicure sets they were perfect for the party and Sam absolutely loved them!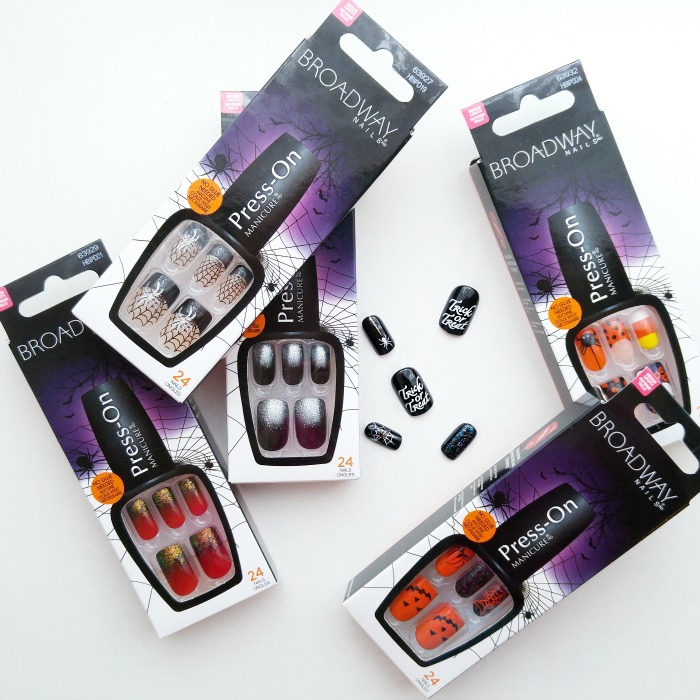 Before I went to claim the 'Best Mom of the Universe' award for hosting the BEST playdate ever, I needed to make sure the Broadway Manicure Sets were safe for the girls, so naturally Sam selflessly offered herself up for a trial run.
There was a nice variety of Halloween themed manicure sets to choose from and they came in the cutest packing.
There are 24 nails in each set with a wide range of nail sizes to choose from. The self-adhesive strip was easy to remove and the nails were very easy to apply. One thing I particularly loved was that each nail had a different, funky design making it easy to mix & match the sets. It took a total of 15 minutes from start to finish applying the set. Sam was the proud owner of a new set of the coolest Halloween manicure! I also needed to make sure that the nails would come off with minimal, to no damage to the actual nail (I didn't want any of the other moms upset with me). Sam sported her new look to school the next day and when I gently pulled them off that night there was no damage to her real nail.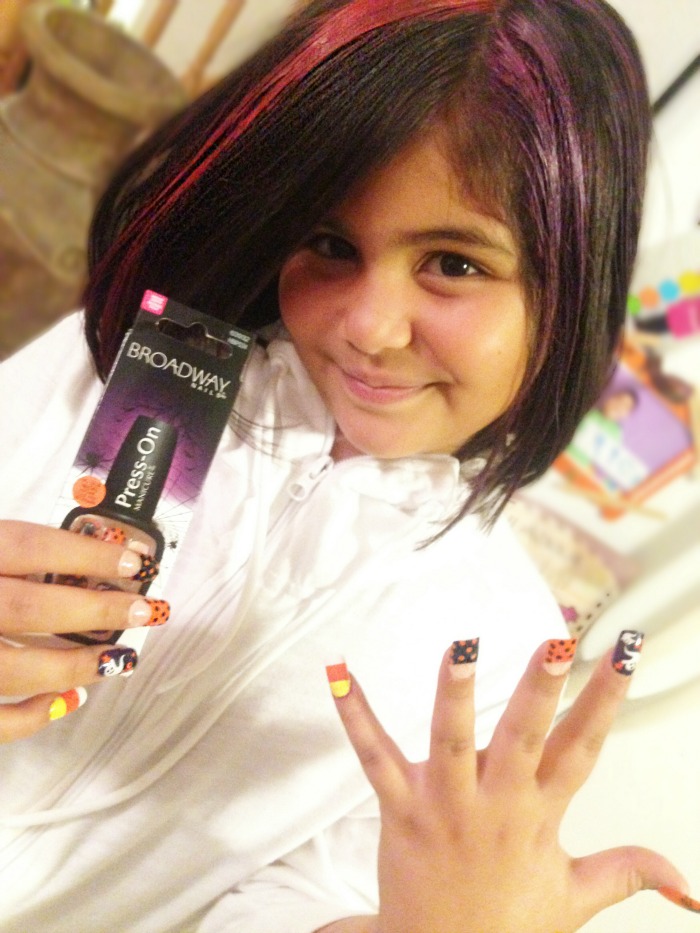 All-in-all, Broadway Nails – Halloween Themed Press-On Manicure Sets has made the cut! For a fun, temporary new look that will make my daughter & her friends happy, (and catapulting my mommy status into 'Super Cool' 😉 ), I think they're great!
You can find These Broadway nails imPRESS press-on manicure nail sets at London Drugs, Pharmasave, Jean Coutu and other mass drug stores.
Share on social: