I was out of town during this year's IMATS event so I asked my friend, makeup artist and skin care expert Naomi to attend for me. Read about her IMATS 2014 experience.
*****
I was really excited about the International Makeup Artist Trade Show (IMATS) because it had been a while since I had last attended the show. I was really looking forward to some of the seminars, shopping, as well as seeing bloggers that I hadn't seen in a while. It was also a chance for me to check out the new venue as the last time that I attended the show, it was at the Toronto Congress Centre.
I arrived with my fellow Blush Pretty team member, Crista at around 9ish. There was quite a line to get your tickets and I.D. checked at the door; luckily the line moved fairly quickly and we were on our way into the venue. I had mentioned that the Pixiwoo sisters were going to be at the Farley Co booth (Farley Co carries the Real Techniques Brushes in Canada and they were in town as part of their tour) so we made our way into the line up. Thankfully again we didn't have to wait long and Crista and I were able to get our picture taken with them. I have to say that they are just as lovely in person as they are on YouTube. I was so excited to have met them, that my hand was shaking!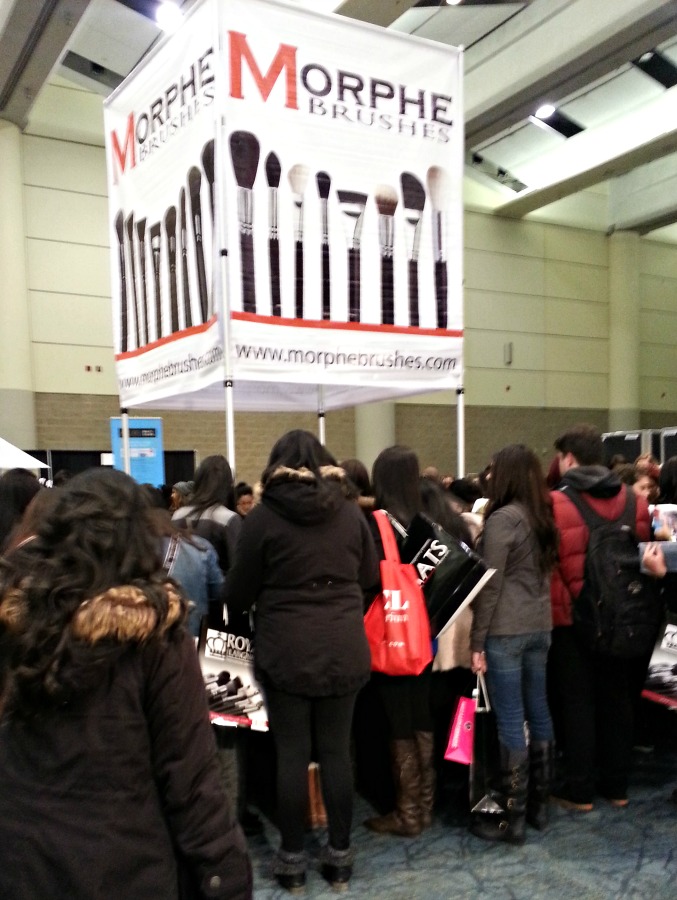 We decided to check out the booths along the perimeter first and then work our way in. We wanted to hit up Morphe brushes but the line was so long that we decided to wait and try again later. Just about every booth we wanted to go to had a line so unfortunately, I missed the seminars I had wanted to sit in on because I was waiting to pay for my items.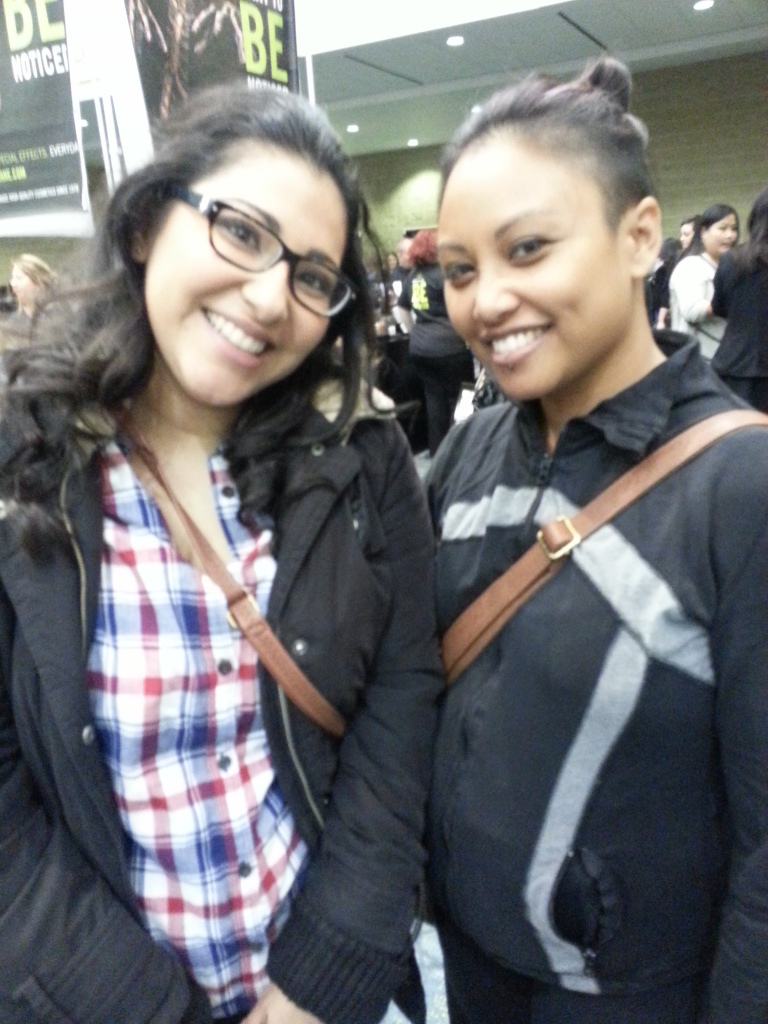 Along the way, we ran into a few other Blush Pretty team members and spent the rest our time at IMATS with them. Another highlight of IMATS for me was being able to meet A.J.Crimson. He was there with Friends Beauty doing demos for his new pro line of cream foundations. While watching his demos, and after having it applied to my face, I knew that I had to have these foundations for my kit. I bought five shades as well as a z palette to put them into. I have to say that these foundation are amazing. I didn't wash my face until very late into the evening and there was only a slight bit of creasing under the eyes; which isn't bad considering that he didn't powder the foundation after application.
Overall, I had a great time and was able to pick up most of the things on my list. I would have loved to have been able to sit in on a few seminars but due to the size of the venue and the long lines, this wasn't possible for me to do. I am looking forward to next year's show and will definitely be going both days so that I can shop as well as catch some seminars.
Did you attend this year's IMATS? We'd love to hear about your experience and please share your haul!
*****
Naomi Mundy is a certified esthetican and makeup artist in Toronto. She is passionate about skin care and will talk your ear off about anything related to skin care or beauty. Tweet with her at @InTheBuffSpa Like her on Facebook.
Share on social: