Who doesn't love having long beautiful lashes? Many of us aren't born with them and we normally resort to false lashes or lash extensions. While I do love the look of both I'm terrible at applying false lashes and lash extensions just don't suit my everyday lifestyle – though they're amazing for vacation!

I decided to check out the new Lash Lift service at Beauty Room.
What is a lash lift you ask? It's sort of like a lash perm but a perm uses a perming rod – much like the ones used for your hair. A lash lift is very natural looking and uses a silcone "bump" to create the lash curl.
The best explanation of the process I have found is on Lisa Elridge's site. Besides the lash tinting this is the exact same process I went through with Amanda at Beauty Room.
Check out her video:
First, Amanda cleaned my lashes and the entire eye area. She then used a shield on top of my lower lashes so they wouldn't be touched by the solution.
The next step was to apply the silicone bump on my upper lids. Since my lashes are short she used the most subtle lift on me so that my lashes would curl as close to the base as possible. Depending on the type of lift you want and type of lashes you have a different size of bump would be used.
My lashes were then glued to the silicone pad and the perming solution is then applied. After about 10 minutes Amanda applied a neutralizer.
During the treatment I was very relaxed. I think I fell asleep for a few moments! The solution did smell like a perming solution but it wasn't overwhelming as not much is used. I also felt a little bit of tingling, similar to what it may feel like when getting your hair coloured – but it didn't burn. If you do experience burning or feel very uncomfortable be sure to let your service provider know.
After the neutralizer a moisturizing solution was then applied before all the pads were removed.
Here is the before and after: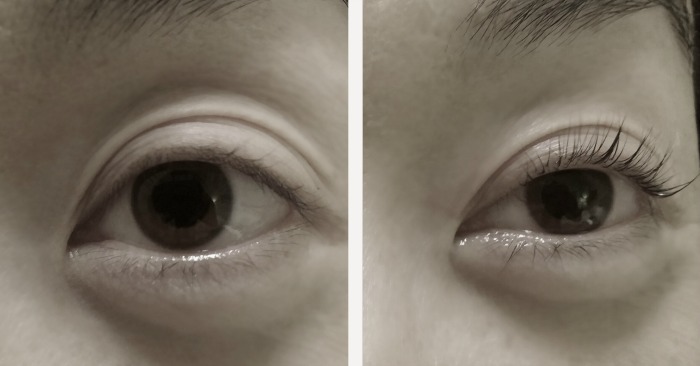 Pretty dramatic wouldn't you say? I LOVED the results. The next day even my husband noticed – he thought I had falsies on! Maintenance was super easy. The first day after I still wanted to apply some mascara since I like the look of dark lashes.It took me a little bit of extra time to apply it since my lashes were curled way more that I could achieve with a lash curler and I just had to figure out the best technique to use without getting mascara on my lids; but after a couple days it felt very natural.
On occasion I did have to comb my lashes since I noticed they sometimes got tangled with each other. Other than that it was super easy to maintain – hardly any effort at all. For me the effects lasted about 6 weeks. I have now gone back to using a lash curler but I find that some of my lashes still have the curl to them – these are probably that lashes that haven't naturally fallen out yet.
Here's a photo with liner and mascara – you can see the lashes are just enhanced and still stand out even with makeup on!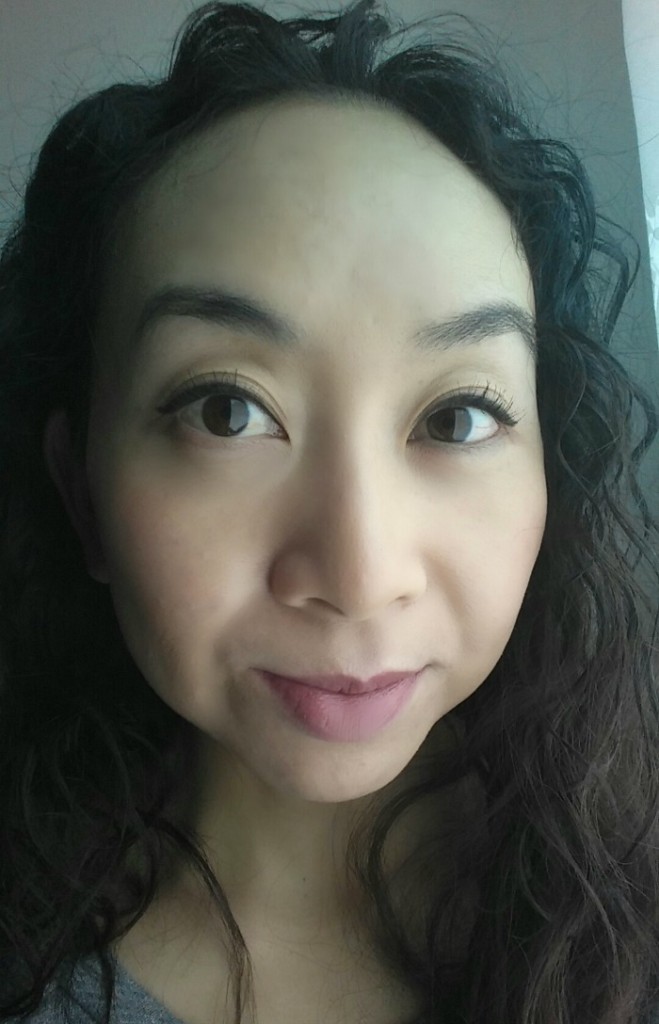 I would definitely go back and get this service done again. I think I may opt to get the tint done as well since I do like the look of dark lashes and perhaps on the days I want to be uber dramatic I'll use mascara for a darker effect.
For more information check out the lash lift service page at Beauty Room where you can also see more dramatic before and afters. Also be sure to follow them on twitter and facebook too! Beauty Room is located in Liberty Village at 39 Mowat Ave. Inside the L Studio.
 Do you think you'd get this service done?
Share on social: