Have you given up on long lasting lips colours? Did they not live up to their claims or were they too drying? Sohnee continues her quest of minimizing her beauty routine and checks out these longwear lip colours from Rimmel.
*****
We asked you to tell us what you'd like to see more in the blog and you answered! In continuing my exploration of ways to lighten up my beauty regimen for the warm weather, I want to talk about lip colours.
There are a lot of ways to wear lip colour these days beyond the traditional lipstick. We have lip stains, tinted lip balms, lip glosses, etc. Each of these products have their pros and cons. One thing I've always liked has been those "longwear" lip colours – the ones that are two-step products that are supposed to last all day. They've been out there for a while with new iterations from different brands. The latest one comes from Rimmel and I'm pretty impressed with their longevity.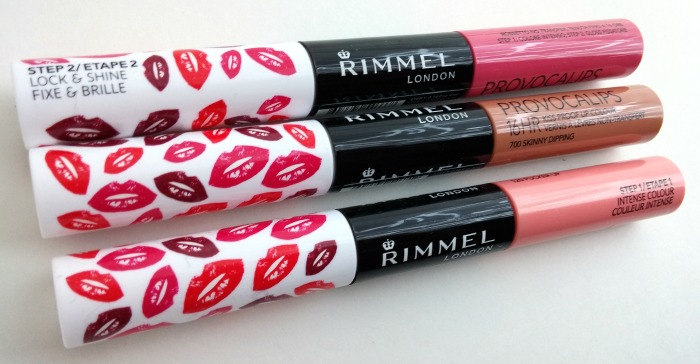 I first heard about Rimmel's Provocalips line through other bloggers and online forums before going to try them out myself. There is a Shoppers Drug Mart near my work, so I stopped in one day to check out the selection. I picked up two shades that day. Little Minx is a hot pink that's a great shade for when you're going to a party. It's pretty bright, but it works for darker skin tones without looking clown-ish. The other shade is called Play with Fire. I love deep reds and this one has a great blue undertone, which can be hard to find; most drugstore shades of red tend to have orange undertones, which doesn't work with my skin colour.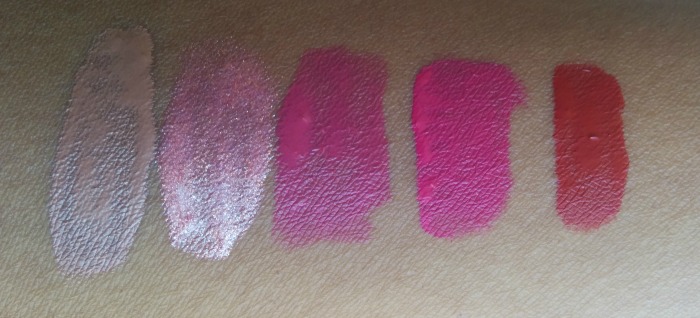 706 Skinny Dipping | 120 Pucker Up | 200 I'll Call You | 310 Little Minx | 550 Play with Fire
Elaine then sent me the three other shades. Skinny Dipping is a "nude" shade. I use quotes because as many people of colour know, "nude" isn't always nude for us. This is definitely a shade that would be more appropriate for lighter skin tones than mine. Pucker Up is a cute pink, but I found that it had more shimmer in it than I would like. Again, I think this would be a better shade for someone with a lighter skin colour. Finally, I'll Call You seems to be the most popular shade in the collection. It was the first shade that sold out at my local Shoppers and it's one that my friends have been asking about as well. It's a pink that can work as an everyday lip colour. It's slightly muted, so it can be work-appropriate regardless of if you're in an office or elsewhere. It can work as both a daytime and nighttime shade.
These lip colours are easy to apply  in 3 easy steps with the doe-foot sponge applicator.
First  use Step 1 –  the colour itself;
Wait a few minutes to let it dry;
Apply Step 2, a clear gloss which seals in the colour.
The gloss also provides moisture to your lips that you can lose when letting the colour dry. It also gives some shine, which is usually preferred in the spring and summer months compared to more matte shades in the fall and winter.
When I swatched these, I let them dry for maybe a minute and I didn't apply Step 2. Even without the extra sealant, it took a lot to get them off! Regular makeup remover may not always do the trick. I used coconut oil as well after trying out regular makeup remover. There were still hints of colour left on my arm –  so that gives you a sense of the staying power!
I have also worn a few of these throughout the day. Once you apply it and let it set, there's very little retouching needed with Step 2's gloss. The colour lasts the advertised 16 hours – even through meals! Other long-lasting lip colours claim to be able to make it through a meal, but if you're eating anything oily or greasy, the colour tends to wipe off with every bite. That wasn't the case with these. I ate lunch and dinner without seeing any transfer and at the end of the night, I still had a tough time to get everything off my lips.
While I like knowing that a colour will last me through the day, I wish there was something out there that would help me effectively remove it at the end of the night!
Just like with any other lip colour, there are pros and cons with Rimmel Provocalips, but if you're looking for something that requires minimal retouching and gives you lots of colour, you can definitely give these a try.
Provocalips are available anywhere Rimmel products are sold.
Will you incorporate a long-lasting lip colour to your spring makeup regimen? Which shades do you prefer?
Share on social: