We can probably all agree on a common pet peeve when it comes to lip gloss: stickiness! No one likes to worry about hair blowing in their face and gluing itself to their pout, am I right?
Well you can leave sticky behind with the new Maybelline Baby Lips Lip Gloss. It is 0% sticky and gives 100% creamy shine.
I tried on Lilac Lumi, a name which describes the colour perfectly! I loved the subtle purple hue and kissable shine. The great part is that it not only applies smoothly, smells and tastes fruity and looks fantastic – it also contains ingredients to maintain a plump and hydrated pout. Oils and Vitamin E moisturize, smooth and soften for 4 hours of hydration so that lips never feel dry.
I have always been a fan of Maybelline's Baby Lips line of lip products. I often apply them when I want some colour but nothing too bold –especially when my lips are on the dry side. They are not only great during the hot summer months when the sun can be harsh, but also in the winter when the dryness and chill can create chapping.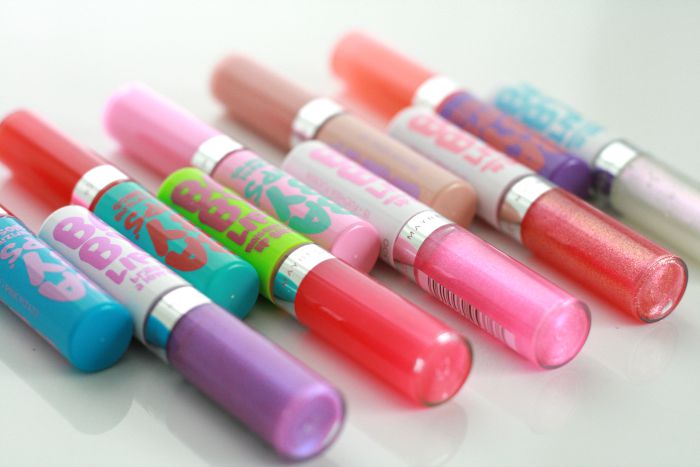 I tend to really horde lip products; often cleaning out my purse every few weeks to find handfuls of glosses and such. Once I sort through everything, I always like to throw in one Baby Lips product to keep things simple because I know it's versatile enough to wear in any setting.
This line of glosses is perfect for a quick spruce up before a date or to simply wear for a day at the beach, cottage or out shopping. You won't need any other gloss!
This new collection comes in a wide array of colours too. There are the The Creams, The Jellies and The Shimmers.

Shown are shades from left to right:
Lilac Lumi (shimmer) | Berry Chic (jelly) | Fab & Fuchsia (jelly) | A Wink of Pink (shimmer) | Fuchsia Flicker (shimmer) | Pink Pizazz (jelly) | Tickled Pink (cream) | Coral Craze (jelly) | Taupe With Me (cream) | Just a Glimmer (shimmer)
These lovely glosses are available at drugstores and mass retailers across Canada for $5.99 CAD each.
This summer which shade will be your go-to gloss?
Share on social: