On a cold and rainy night a few weeks ago I went to visit the Miraj Hammam Spa by Caudalie located in the Shangri-La hotel in downtown Toronto. I had been to the spa before on a media tour but I hadn't had a chance to book an appointment so I was very excited to check out the signature treatment – Hammam and Gommage.
Hammam is "bath" in Arabic and "Gommage" means to exfoliate or scrub. You may recall "gomme" means eraser in French – like those little pencil erasers we used to use. So I pictured all the dead skin on my body being removed. Indeed I was right – my Hammam and Gommage treatment consisted of "bathing" in two types of steam rooms then treated to a full body exfoliation.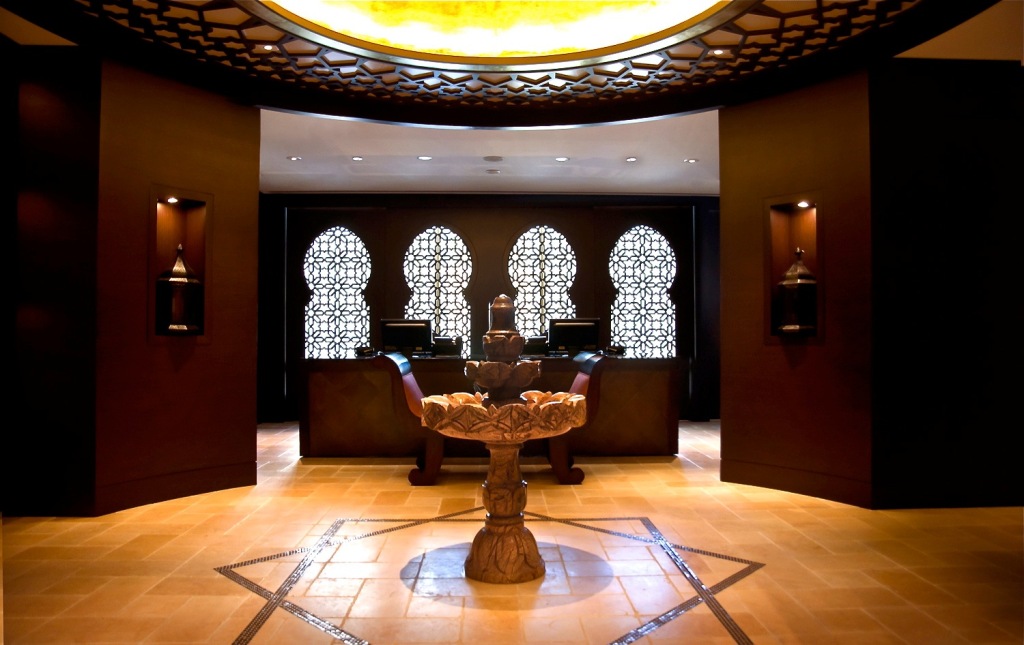 Ok, hold up right there. I think at this point I hadn't really thought it through. I was really looking forward to my upcoming appointment that the day before I realized that I would likely be COMPLETELY naked while someone else was exfoliating my body. I quickly packed a swim suit with me just in case and made sure to ask a bunch of questions about the treatment when I got there!
I know there are many people who are not comfortable being naked in front of other people. I'm the girl that would change clothes in the bathroom or shower stall at the gym or have a towel around my waist while changing by the lockers. It's not that I'm embarrassed or I don't feel comfortable with my nakedness – but my nakedness – especially at this point in my life – is something I'd prefer to share in small doses 😛
I spoke to several members of the staff at the Miraj Hammam Spa and everyone was great and put me at ease. They assured me the steam room as well as the Gommage area would be just for me and my service provider. They also actually had disposable underwear and covers for those who felt shy or uncomfortable.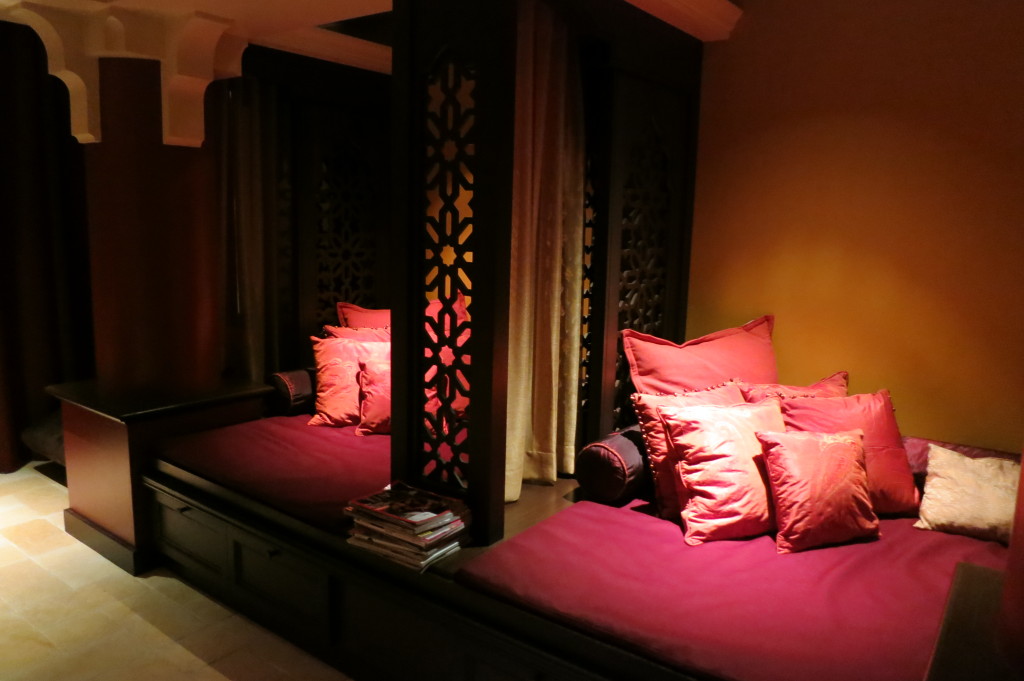 Prior to my treatment I was able to relax with some amazing mint spiced tea. One of the best teas I've ever had! So prior to my treatment I was already feeling quite happy and zen.
My service provider Anna had to pull me away from the cozy lounge to start the treatment. She explained that the Hammam and Gommage room was divided into three areas. When you step into the large space there is a private bathroom plus a sarong and hair ties/shower caps and disposable cover ups for comfort. The back of the room was the high intensity steam room. I would enter there first for the Hammam portion to relax and detox and cleanse my body for about 15 minutes. The Gommage portion would take place in the low mist steam chamber where I would be lying on Jerusalem gold marble for the treatment. Can we say luxury?
I should note that although I had the entire space to myself you are able to share the space for group booking or couple bookings too.
This whole treatment was made for me. The steam was definitely intense but it made it so easy for me to relax. I could also smell Eucalyptus within the steam which I love – so I was definitely in heaven. This is the point where you kind of just lose your inhibitions and become so comfortable that you don't even care 😉
Just when the steam was getting a bit intense for me, as if on cue Anna appeared to guide me towards the marble benches. The Gommage was carried out with black Moroccan soap infused with even more Eucalyptus. My whole body felt invigorated and relaxed all at the same time. I honestly didn't want it to end!
But of course it did 🙁 after the treatment I went back to the lounge area for more of that delicious tea plus a snack of nuts and a sliver of an ooey gooey honey pastry which I will say was baklava.
I reluctantly headed back to the change room where I met another spa goer and we were both just raving about our treatments. She had the Crushed Cabernet Scrub treatment done – I think I may have to check that one out next time!
If you're looking for a luxurious oasis in the city  look no further than the Miraj Hammam Spa by Caudalie Paris right in the Shangri-la Toronto. You'll be transported to another world and you'll forget you're in the middle of the downtown Toronto.
What is your favourite spa treatment?
****Disclosure: Service was provided courtesy of the Miraj Hammam spa; if I didn't recommend it I wouldn't write about it!***
Share on social: