It would seem the seasons have changed so it's a great time to look into changing up your scent. Designer Narciso Rodriguez launched a new women's fragrance "Narciso" just in time to to find a new signature scent for Fall. Sohnee has the story behind Nariciso perfume and shares her thoughts.
*****
Many of you may have heard of Narciso Rodriguez. He's a fashion designer who has designed dresses for some of the most famous women out there including Salma Hayek, Sarah Jessica Parker and even Michelle Obama! In 2003, he came out with his first perfume called For Her. It was (and still is) a popular scent containing a blend of floral, musk, and woody notes. Since then,  he has come out with over 20 other perfumes.
His latest perfume, called Narciso, contains similar notes as For Her, including vetiver, amber, and musk. However, it also has notes of cedar, gardenia, and bulgarian rose, without the orange blossom and vanilla found in his previous creation. The scent is supposed to be quite woody with floral notes, but I actually found it to have a more soft, powdery finish. The initial scent is definitely more masculine, due to the strong musk top notes, but the middle and bottom notes are more floral, leaving a more feminine scent to linger.
Photo credit: Natalie Ho
Forever a designer, Rodriguez designed the bottle after his own aesthetic, starting with his essential colours of black, white and nude. The cube is beautifully designed with simplicity and clean lines. His signature rectangular top is a creamy matte nude that looks lovely adjacent to the glistening glass bottle.
Personally, the design of the bottle doesn't have much influence on whether I'll purchase the scent, but I do appreciate the minimalist look of the bottle. The fragrance is much softer than I expected. When I first put it on, I could smell the strong musk. Later, the top notes faded to reveal more floral notes, but I felt that it was quite linear with the rose. I usually prefer crisp scents that include citrus or other fruits, so this wouldn't be my first choice of signature scent. However, I'm sure that this will be just as popular as For Her and will help continue to synonymize the name Narciso Rodriguez with women's beauty, both in clothing and in scent.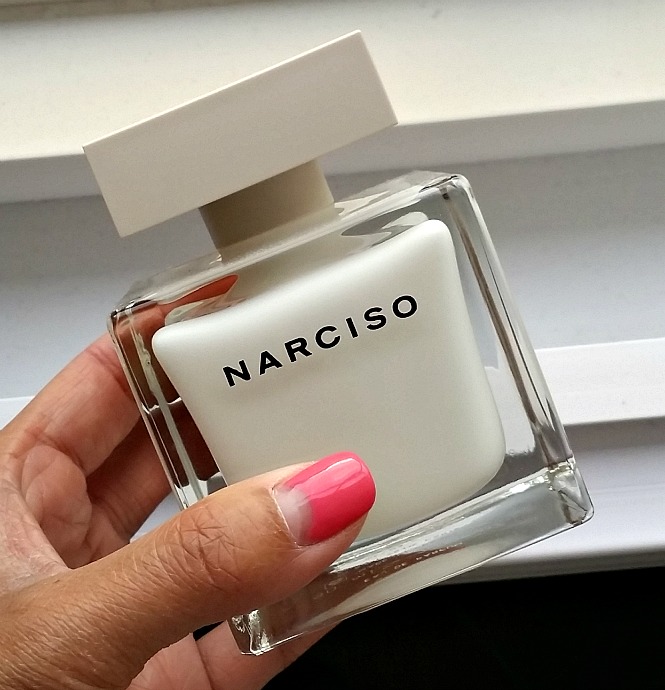 Photo credit: Natalie Ho
Narciso is available now at any Hudson's Bay location and will be available at Holt Renfrew, Sephora, Murale, and Shoppers Drug Mart Beauty Boutiques in October. The perfume comes in 50 mL and 90 mL bottles as well as a body lotion, deodorant spray and musc oil.
Will you be changing up your scent with the arrival of Fall?
*****
****Disclosure: products were sent to Toronto Beauty Reviews for review/editorial consideration***
Sohnee is a genetic counsellor by day, a product reviewer by night, and a cat whisperer on weekends. She loves to try out all things beauty related, but will always be curious about the science underneath. Follow her on Twitter @SohneeAhmed.
Share on social: