The sunny weather is finally here which means we will be out in the sun about 90% of the time right?! Well at least I know I will. With that in mind let's not forget our best friend: sunscreen.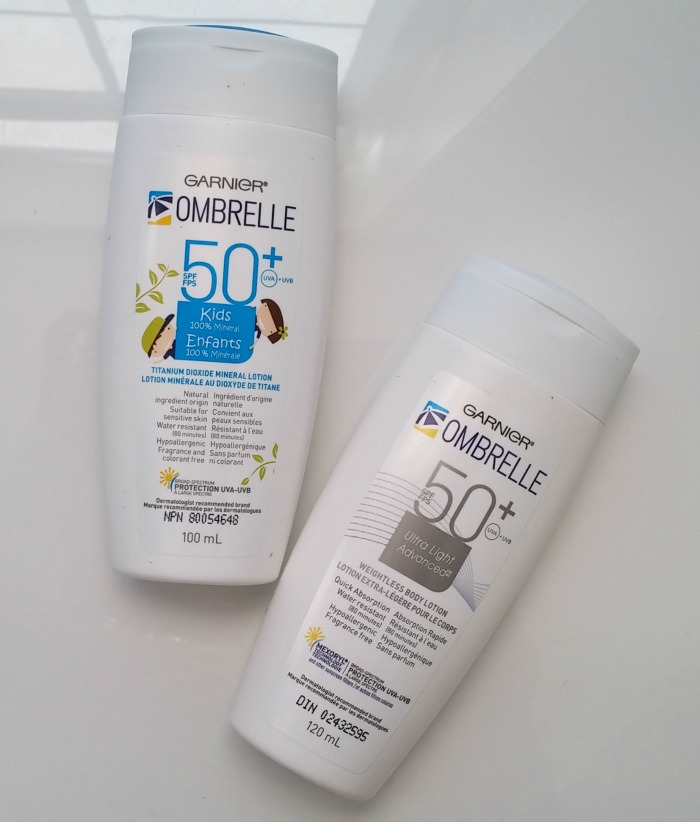 I've been using these lovely Ombrelle Sunscreens for last month on myself, and on my 10 month old son and I've been loving them!
With my son being so young I'm still concerned about his sensitive and delicate skin. I'm so happy he's had no issues with the ! The Ombrelle Kids Mineral Lotion SPF 50+ is a 100% Mineral sunscreen made with titanium dioxide. It'ss fragrance and colorant free and best of all it's SPF 50 which means awesome sun protection especially for baby's delicate skin.
The Ombrelle Ultra Light Advanced Sunscreen is perfect for adults since it goes on smooth dries quickly; plus they don't leave a greasy residue. This is super important when dealing with a very active 10 month old…there's no time to waste! I also love that it's water resistant so it has a much longer wear time. Of course, it's still recommended that you reapply after swimming for optimal protection!
So, let's not forget to use sunscreen this summer; we need to protect our skin from sun damage of course, but let's be honest here. We all want to look amazing as we age so we need to take charge and start preventing damage now! Why not get a cute hat and sunglasses while we're at too 😉
You can find these Ombrelle Sunscreens at Walmart and Shoppers Drug Mart and Ombrelle has some amazing information on their site. Check it out here: Ombrelle Sun Facts.
Share on social: