This is another guest post from my friend CL. We tend to have the same taste when it comes to skincare as our skin behaves in a similar manner so I was really excited to read what she thought about the Refresh Botanicals line – another great Canadian brand that I'm happy to feature on Toronto Beauty Reviews!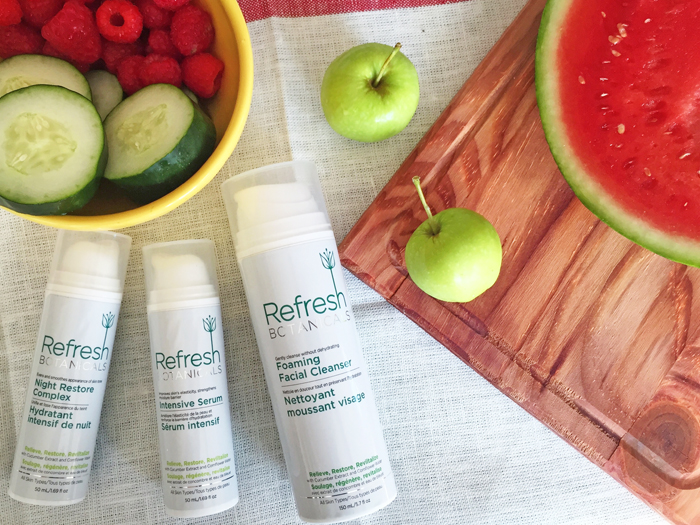 *****
I strongly believe in the importance of eating local and seasonal produce as much as possible; however, with the long, cold winters we have here in Ontario, eating seasonally isn't always easy (I mean, who wants to live on potatoes and turnips from December to April? Anyone?!). So when there is an abundance of delicious, fresh seasonal fruits and vegetables, why not take advantage of them? Eating seasonally means that we're consuming foods which nature has intended for our climate and our bodies. With their high water content, summer fruits and vegetables such as watermelon and cucumber are perfect for cooling us down when the heat soars. And as skincare ingredients, they provide ample hydration and nutrients for sun-parched skin.
For the last 4 weeks, I have been trying out products from Refresh Botanicals, which I have been really enjoying for my summer skincare routine. Loaded with botanical extracts from summer harvests like cucumber, watermelon, and cornflower, these products are completely devoid of animal by-products, artificial fragrances, petroleum by-products, parabens, and gluten.
My skin gets irritated with heavily fragranced products and some petroleum-based ingredients (especially mineral oil), so knowing that these goodies don't contain the sensitivity triggers for my skin has put my mind at ease.
A little bit more about my skin type: it's sensitive and oily. And despite its incessant capability of overproducing oils, it also gets dehydrated very easily, so I don't like using products that are too light or drying.
The Foaming Facial Cleanser ($18.99/150mL) is super gentle on the skin but does its job so well without causing dryness. My skin is thoroughly loving this cleanser at the moment! Its sulfate-free formula means that it doesn't foam as much as other foaming cleansers do, but I didn't mind it at all. The refreshing, real cucumber scent from cucumber fruit extract and cucumber seed oil helps me start my morning fresh. The beautifying effects of cucumber are well known, and its soothing, hydrating, and cooling benefits make this cleanser a must-have for summer!
I have also been religiously using the Intensive Serum ($23.99/50mL). I use it twice a day, and in this humid weather, I find that I can skip a moisturizer during the day and just apply my sunscreen and makeup on top of this serum. Filled with nourishing lightweight oils such as grape seed oil, along with plant extracts from watermelon (hello, Vitamin C!), cucumber, and algae, this serum is formulated to act as an antioxidant boost for the skin.
I have been using the Night Restore Complex ($23.99/50mL) with the serum at night, and I find that these two products have helped my skin a lot: it looks a lot more hydrated and feels softer, and the redness is reduced. The Night Restore Complex, too, is full of natural goodness, including cornflower water and fruit extracts from cucumber, watermelon, and apple. Both products have a water-based gel-like consistency, but they are very moisturizing so you don't need to apply a lot of product.
The line also offers other products from the Eye & Face Makeup Remover and Facial Toner to the Daily Facial Moisturizer and BB Cream, to provide a full skincare system for an easy-to-follow daily regimen.
All Refresh Botanicals products are supercharged with a high percentage of organic botanical ingredients (88.35% on average), which offer powerful antioxidant protection and skin-quenching benefits that will keep your skin as hydrated and soft as it can be all summer long!
Share on social: