When I first decided to take the plunge into sunless tanning this year I need to be honest – I was a bit skeptical. My prior self-tanning experiences were not all that great.
My mind traveled back to that summer when I was 15, to a particular beach trip where I thought I would be savvy and get my tan on the night before from a product I had purchased. Bad,  bad idea.  I went to the beach the next day with my best friend and earned the nickname "Streak" due to the gorgeous, striped orange stains up and down my legs!
Let's just say sunless tanning has come a long way since then.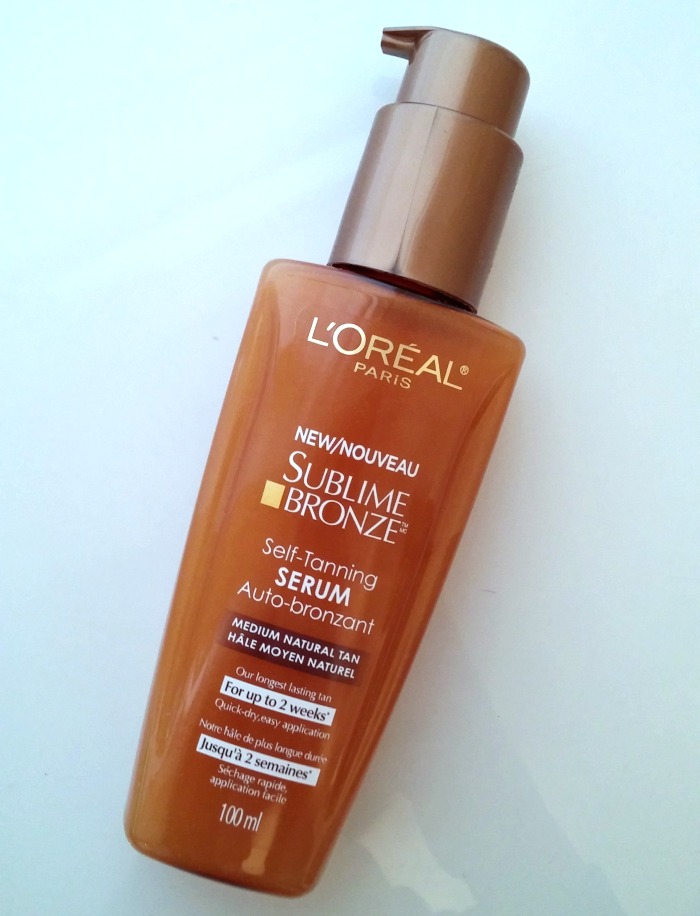 I discovered L'Oreal Paris Sublime Bronze Self Tanning Serum. It comes in a cute and compact bottle with a push- pump lid and contains more of a gel like substance, rather than the lotions I am used to.
I exfoliated and moisturized my skin so I'd have the perfect canvas to work on. You absolutely DO NOT want the tanner to be at risk of sticking to dry areas of the skin; that will take away from a nice even glow. I was a lovely pasty yellow-gray colour from the long winter (and slightly cooler spring) of hiding exposed skin from the harsh elements.
One, two, three…begin.
My first impressions after squeezing the product into my palm was how great it smelled! I am so used to self-tanners smelling…not-so-hot and this one…let's just say I would bottle the scent if I could! It smells like sunshine and freshness, with slightly floral and maybe…vanilla undertones? It was very lightly scented and not overpowering – just enough to make the experience enjoyable.
After I had evenly rubbed the gel over my skin and it had dried, something on my leg caught my eye.
Sparkles? I looked closer at the bottle as well to make sure that indeed that was where they came from. Yes, there is very soft, fine glitter in the gel that stays on you after it has dried! Okay, more bonus points in my books!
Then came the final question – the tan, does it look real?
I waited until the following morning to see it in daylight. Aside from me missing a few spots down by my ankles (my fault and not the product's) my entire skin was coated in a nice, bronze, natural glow. It was as good as if I had received it from the sun itself, without the damage that can come along with it.
I loved how I wasn't orange, was subtle enough to be natural, but bronze enough to make a big difference in my complexion. I literally just looked like I spent a day at the beach!
The tan is said to last up to 2 weeks and is L'Oreal Paris' longest lasting tan.
I definitely recommend the L'Oreal Paris Sublime Bronze Self Tanning Serum to someone looking to try a sunless tanner, or who does not want to tan naturally. This is a much healthier alternative than some of the other tanning options! Now that I look l like I have come back from a nice, tropical vacation I think it is high time I had a beach day!
I'm grabbing my sunblock, towel, pack a picnic basket and be on my way!
What are your favourite self tanners?
Share on social: