Many, many hair products pass across my desk, and I have to admit that I don't have high hopes for most of them. To be fair, I have pretty difficult hair to tame. Coarse, dry and curly – I need a lot of products to keep it at its best! I was recently introduced to Pai-Shau a Toronto based hair care line. Using a potent tea complex inspired by a visit to Vietnam, Pai-Shau's founder incorporates a blend of concentrated steeped teas from around the world with advanced hair care technology to create a unique line that work for all hair care types.
I was sent the Pai-Shau Ritual Box ($60) containing travel sizes of the entire hair care line.
Hydrating Ritual Replenishing Hair Cleanser
Hydrating Ritual Replenishing Cream Conditioner
Hydrating Supreme Revitalizing Mask
Design Ritual Style Souffle
Enhance Ritual Biphasic Infusion (the hero product!)
As I started trying out the products I noticed a difference right away with the hair cleanser and conditioner. First off, the shampoo was sulfate free but yet created a rich and thick foam. It coated my hair quite well without using a lot of product. I noticed the biggest difference with the conditioner. My hair constantly gets tangled which makes combing it out the in shower a huge pain. When I used this conditioner, like the cleanser it coated my hair very nicely and easily; combing the tangles out was still a pain but when I rinsed it out I noticed that my hair felt sleek as opposed to feeling dry right away.
I continued using the rest of the products but didn't notice too much of a different from other products I used. Actually, when I first used the hero product of the line, I didn't feel it was heavy enough to tame my hair.
About a week later, I visited Rob Pizzuti, ambassador for Pai-Shau at Blyss Salon in Yorkville.
Rob and I actually go WAY back! I used to see him to get my colour done back when I was attending the University of Toronto! We unfortunately lost touch over the years so it was great to get to see him again. He is extremely passionate about this line and I can see why. He explained a bit more about the Enhance Ritual Biphasic Infusion to me and of course I found out I was using it wrong! It's really important to shake it to activate the ingredients and incorporate the 2 phases together before using it (hence the name biphasic 😛 ). It fortifies the hair, acts to protect it from heat and the environment, is a great primer and provides shine. When you first apply it to your hands it may feel a little slick but it quickly absorbs into your hair and feels weightless. To prove this point Rob had me test it on my arms and lo and behold, in a couple minutes there was no noticeable trace of the product left except for soft and smooth skin!
Rob was kind enough to treat me to an in-salon Pai-Shau treatment and hair colour.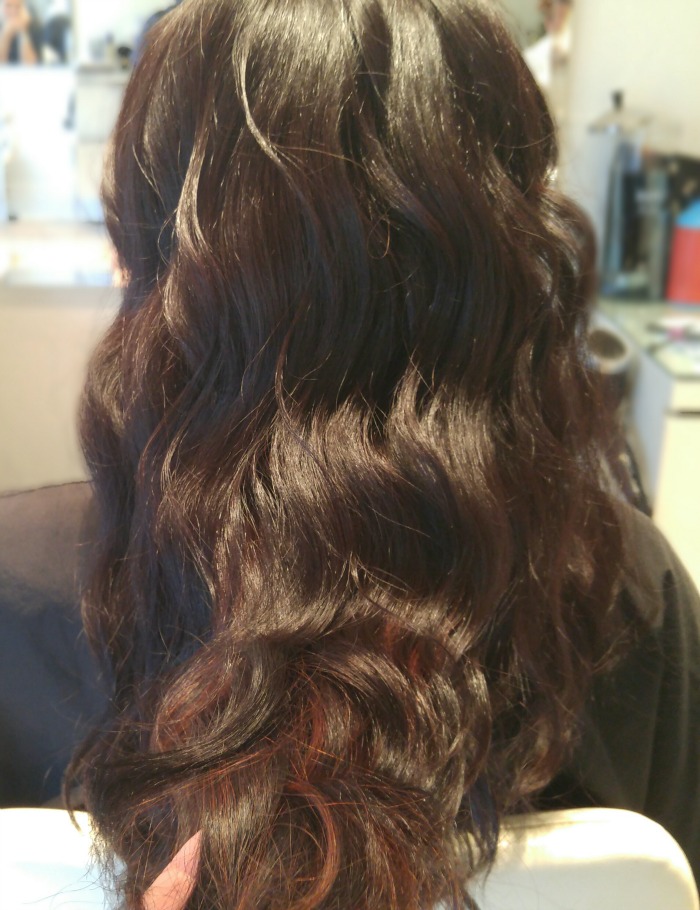 He colour corrected my hair at the ends and added a bit of warm brown to break up my one dimensional colour. I absolutely LOVE the results! Not to mention he expertly covered up my greys and I have yet to see any regrowth after a couple of weeks.
I've been continuing to use the Pai-Shau line (properly) and I can honestly say the shine on my hair is incredible. If you have curly hair, you'll know that it's not very easy to achieve and maintain shine as its natural state is to be frizzy. I've never seen my hair look so glossy before!
The ONLY gripe I have with this line is the scent. Not that the products smell bad; in fact they have a bit of a soft masculine scent to them; but for my personal taste it's a bit too strong. Rob also explained that the formula was also created with "scent burst technology" to allow the scent to come through but disappear shortly after. While I found this was true when my hair was wet, when I applied the Biphasic to dry hair the scent lingered for me all day.
BUT it hasn't stopped me from continuing to use the line daily – I will just stick to applying it to wet hair.
HUGE thanks to Blyss Salon and Rob Pizzuti for hosting me and introducing me to this line.
You can pick up full sized products or this Ritual Gift Box (perfect for Christmas!) at Blyss Salon or find a salon near you.
Would you give this Canadian company a try?
Share on social: