One of the perks of being involved in the beauty and fashion industry is the amazing parties I get to attend! The majority of the time they are for work – media invites to events or launches to learn about new products and services – all so I can hurry home and write about what I think will interest you, my readers!
I received another exciting invitation – the opening of the new location of Studio Fontana at 400 Wellington Street West.
But this time I get to offer 2 tickets for one lucky winner and a guest to attend!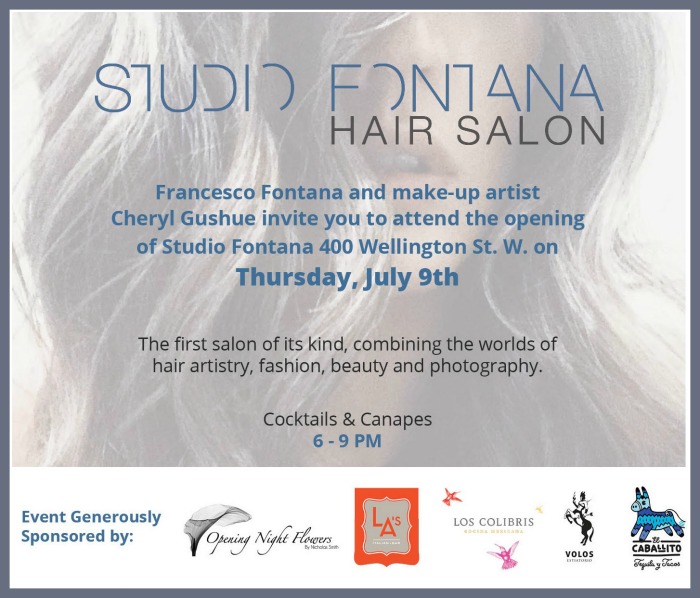 Hairstylist and salon owner Francesco Fontana opens up this new concept salon as a second location along side his Yorkville studio. His aim is to bring together the worlds of fashion, photography, beauty and hair all in one space!
At the opening event party you'll be able to check out this shared collaborative and creative space. During regular salon hours, clients will be able to get all their hair styling needs met while at the same time witnessing creative fashion and beauty shoots that will be happening at the same time in the open-concept space. You may even get to see a shoot with Toronto's hottest up and coming models and designers – how exciting is that?
Award-winning make-up artist and global educator Cheryl Gushue (you may have seen her on Steven and Chris!) will be joining the Studio Fontana team providing makeup services and lessons.
Meet both Francesco and Cheryl during this exciting event!
Here are the details again:
Studio Fontana Exclusive Opening Night Party
400 Wellington Street West
Thursday July 9, 2015
6 – 9pm
So, do you want to hang out with me that evening? Enter the rafflecopter form below for a pair of tickets! Please note that you and your guest must be 19+ to attend this event. Also, this event is in downtown Toronto so please make sure you can attend before you enter!
a Rafflecopter giveaway

Share on social: