Those of you with curly hair may understand that curls can have a life of their own. I'm not exactly sure what the results will be each day so I've just learned to embrace it and go with it. I thought I'd share with you how I tend to style my hair on the daily.
Step 1 – start off with wet hair.
After stepping out of the shower I normally start the process of doing my hair right away by applying my product then putting my hair up in a clip. I then continue to do my skin care routine and makeup. Since I was taking pictures for this tutorial I did things a little backwards – skincare and makeup first, hair next 😉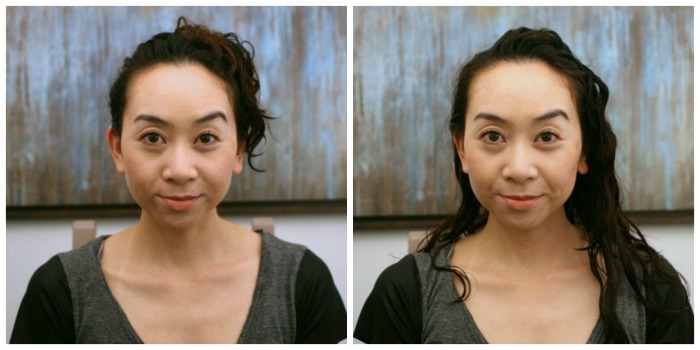 I'm not sure if you can tell but the ends of my hair are already a little drier than I'd ideally like them to be before applying product. At this point I can tell the final results will be a little frizzier than expected.
Step 2 – apply products
I really love using a heavier product like a curl cream because my hair is quite thick and coarse. If you have finer hair you should opt for a curling lotion or serum or even stick to a spray type product if you're concerned about your curls getting weighed down.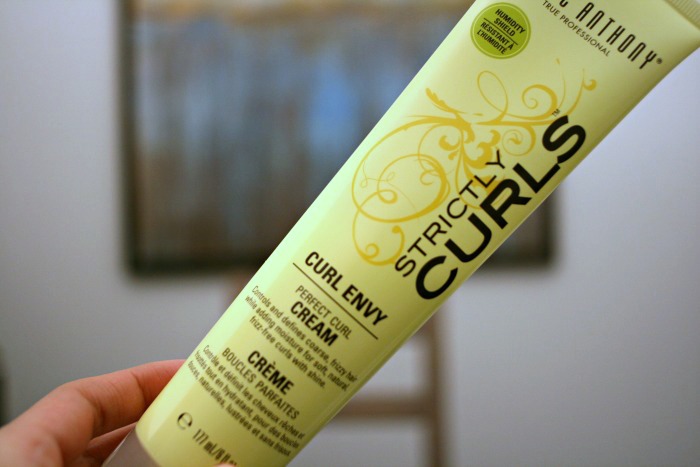 The product I keep going back to is the Marc Anthony Strictly Curls Curl Envy Perfect Curl Cream. I take a bit of the product and evenly distribute it all over my hair being careful not to put too much product at the root.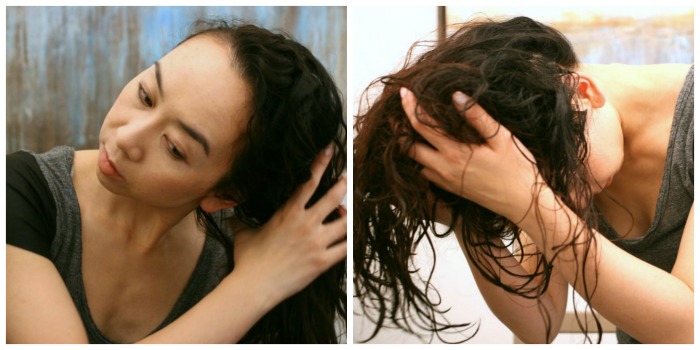 I then flip my head upside down and coax my curls into shape. If I have time I will take sections of hair and curl it around my fingers for more defined curls – but I rarely ever have the time for that!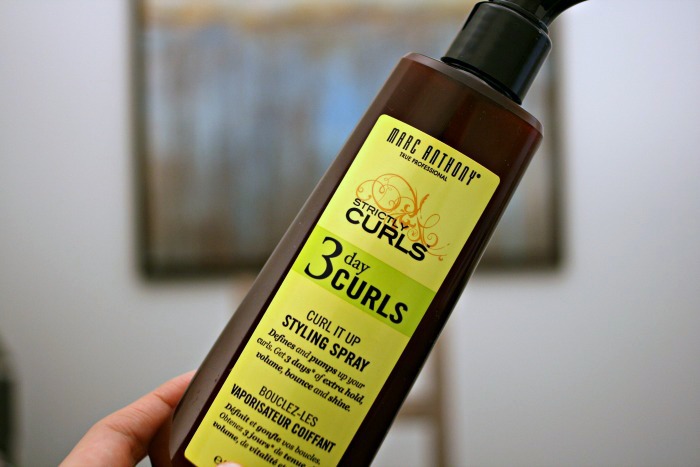 Lately I've also been finishing off with the Marc Anthony Strictly Curls 3 day curls styling spray. I just spray it all over and I find it helps to hold my style and not as many frizzies form.
Step 3 – Diffuse or air dry.
If I'm not going out right away or if I'm on vacation I will try to let my hair air dry as much as possible; however most days I will reach for my hair dryer with the critical diffuser attachment.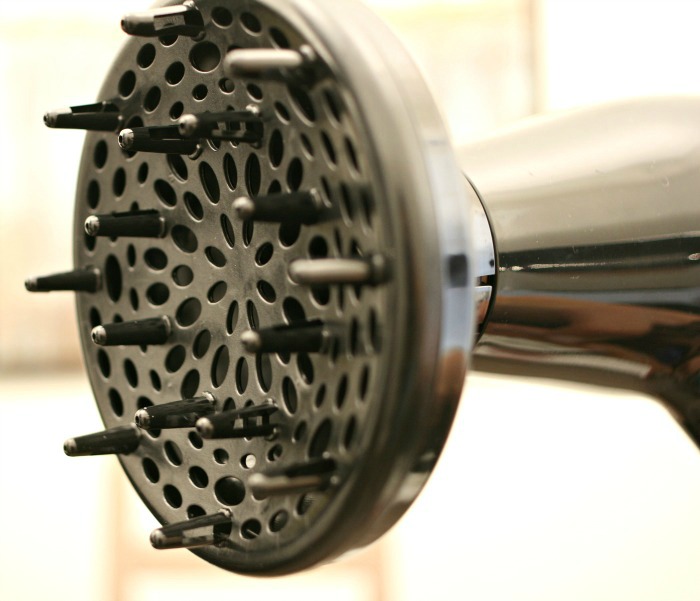 It's recommended to dry your hair on low to medium heat at medium speed but I'm pretty impatient so it's on high settings for me. The key is to not move the dryer around too much so as to create frizz. I allow my hair to "fall" into the diffuser and then bring the dryer up towards my scalp and leave it there for a few minutes then move on to the next section.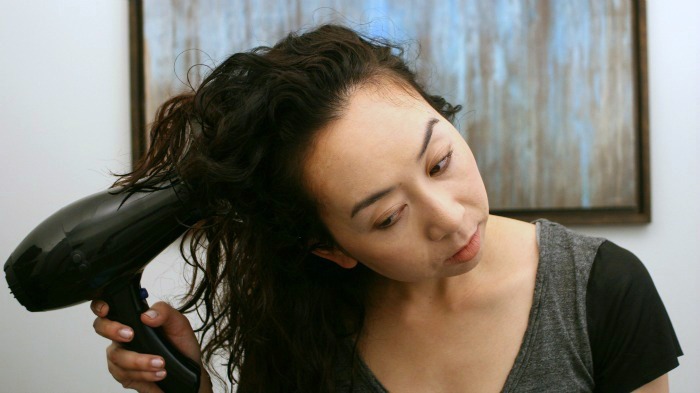 It's also really important to not let your hair dry 100%. I diffuse until my hair is about 75% – 80% dry.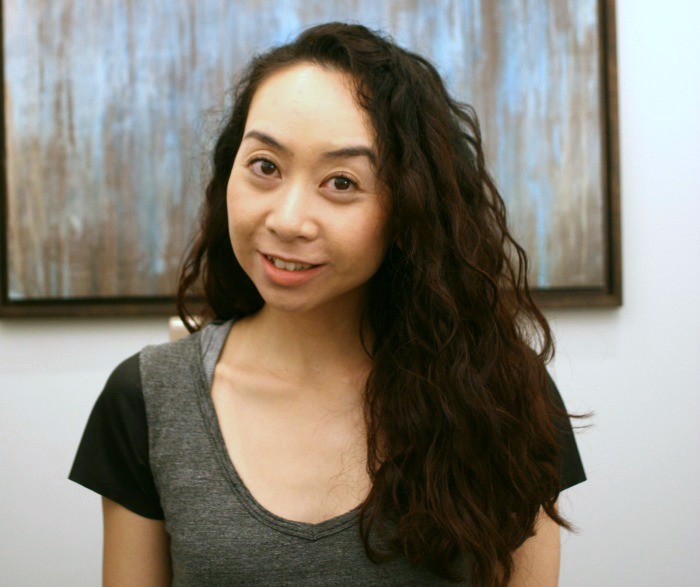 And voila – here's how my hair looks after all the steps. As I mentioned in the beginning of this post, usually my hair is more wet when I start styling it which helps reduce frizz and define the curls more but as I also said – I never know what the result will be so this is how it turned out that day 😉
I prefer my hair on days like this though: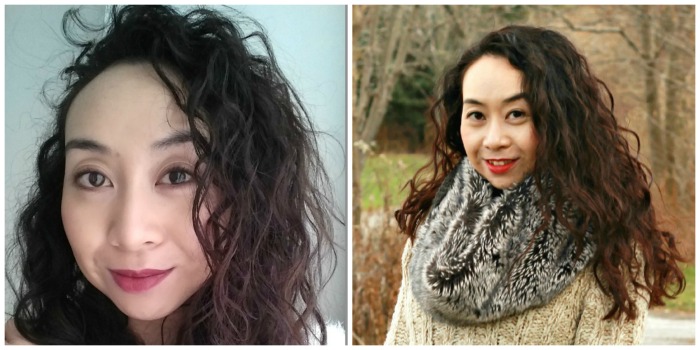 Still a bit frizzy (I've learned to accept and embrace it!) but curls are more separated and defined.
If you have curly hair how do you style it?
Share on social: