Yup, it's another food based post! I thought I would share with you the exciting food festivals happening in Toronto this weekend – I'm going to try to attend them myself!
Taste Of Toronto
July 24 – 27th, 2014 is the Taste of Toronto taking place at Fort York and features an extensive schedule and line up of cooking classes, demos, Q&A's with renowned chefs book signings and so much more! Some of the special guests include David Chang (chef and owner of Momofuku), Chuck Hughes (chef and TV personality) and Roger Mooking (TV personality and author) to name a few!

There will also be music and a marketplace including almost 70 premium vendors – also be sure to visit the "Officer's Mess Kitchen" for historical cooking classes for both kids and adults.
Admission to the event starts at $30. For more information check them out at  tasteoftoronto.com and tastefestivals.com; on facebook; on twitter; on instagram and use the hashtag #TasteofToronto
 Waterfront Night Market
When I was in BC we attempted to attend the Richmond Night Market but of course – as luck would have it the ONE day we were in Richmond it was closed! I guess it wasn't meant to be! I was excited to learn about the T&T Waterfront Night Market which is actually in its 5th year.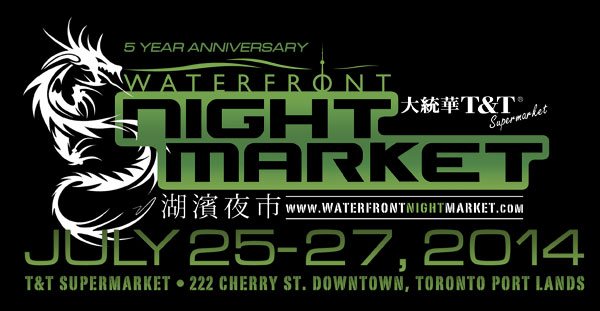 The event is family friendly and free to attend. It focuses on Asian style street food and highlight multicultural cuisine. It aims to showcase Canada's expertise in fusion foods and lifestyle all in one place.
If you make it to this festival be sure to check out catering company Some Guys Culinary Co. who will be partnering with Yakitori Bar on Baldwin.
If you attend any of these food festivals be sure to let me know what you thought! I'd love for you to share your photos with me on facebook, twitter or instagram. Just tag me 🙂
Share on social: