It's been about a year now since I have been contributing to Toronto Beauty Reviews with my thoughts on the beauty products Elaine receives. It's amazing how many products are out there. I've had the pleasure of testing out new products that have now become part of my rotation, whether it be daily or weekly. Here are a few of my current beauty faves: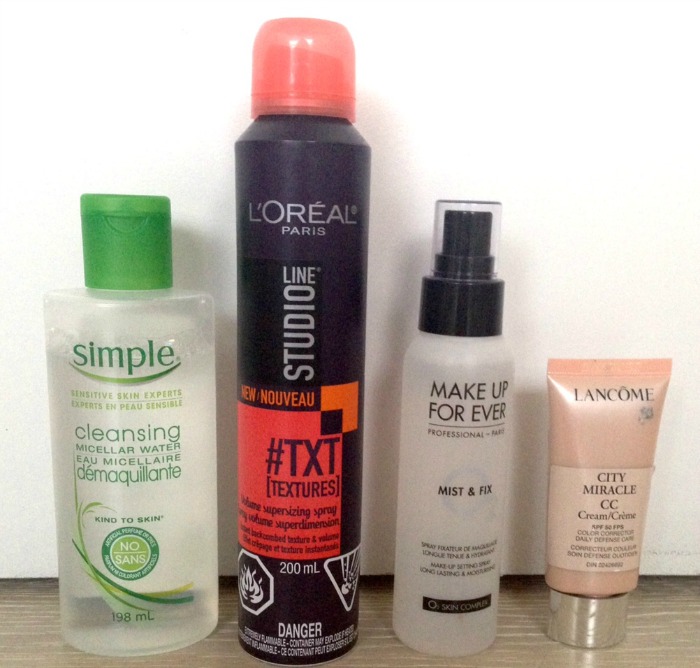 Simple Cleansing Micellar Water

I've tried other cleansing micellar waters and this one by far is my favorite. I absolutely love the way it makes skin feel after – so clean, clear, and hydrated. It's gentle (and even safe for contact lens wearers like me!) and doesn't dry out my skin. It removes stubborn waterproof mascara and the rest of my makeup too.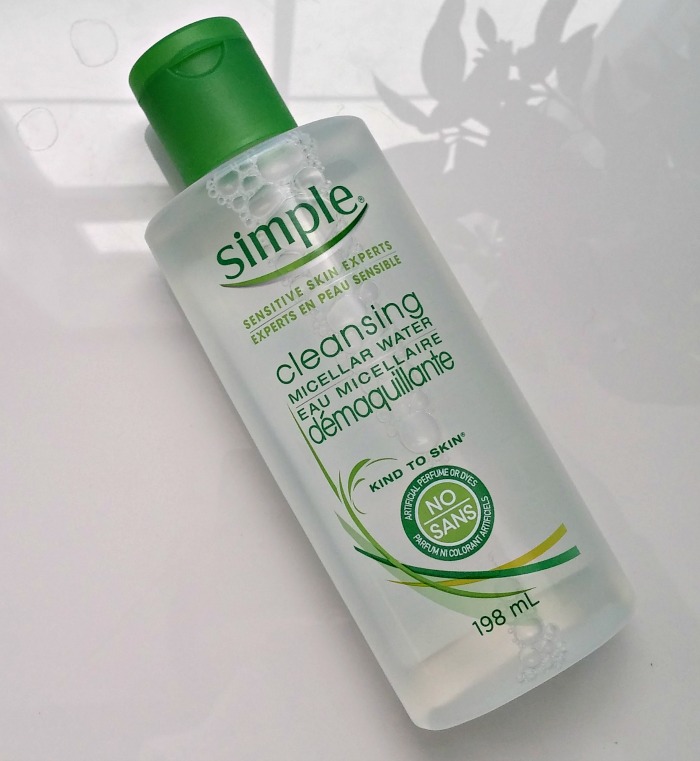 I like to do a quick swipe of this before using a cleansing oil just to remove most of my makeup before actually cleansing. I find that sometimes you just can't remove everything in one shot.
L'Oreal #TXT VOLUME SUPERSIZING SPRAY
This spray instantly backcombs your hair from root to tip without a brush. It's the BEST for up-dos. When I had long hair, I would spray this all over to give my it volume and lift before putting it up in a messy bun or top-knot. This eliminated having to tease the crap out of my hair and damaging it further.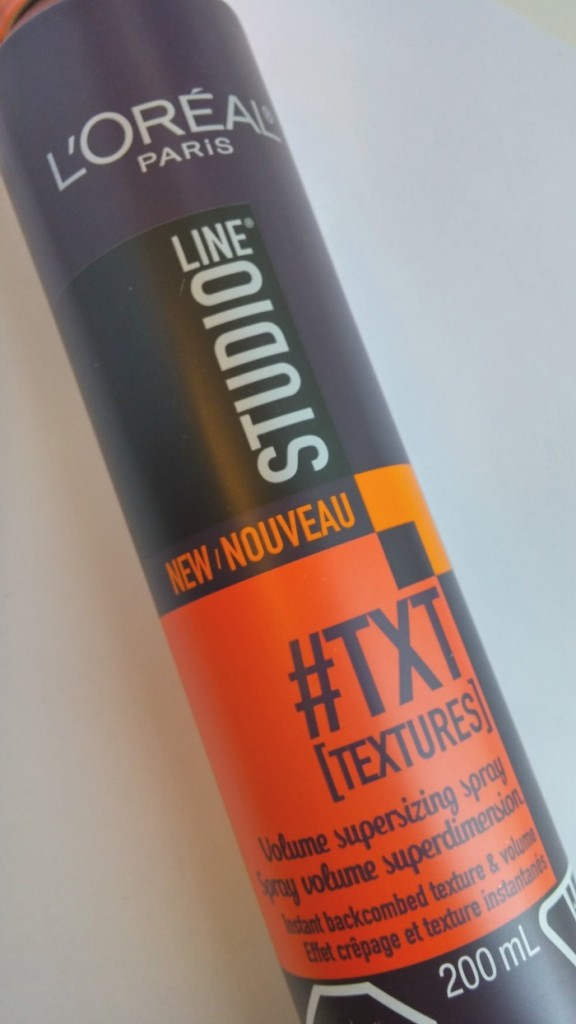 This product would be great to have at home but also at work when you have to take your look from day to night. A quick spray and an elastic or bobby pins can easily create a fabulous up-do. The key is the texturizing micropowder which gives hair the look of being backcombed for volume. I also love that it finishes with a matte look. Bonus: it won't weigh down your hair, hair is still brushable, and there are no issues with tangled hair you can experience with teasing.
Make Up For Ever Mist & Fix
On my nights out, I really like to spend the time to carefully and precisely apply my makeup. After all the effort I put into putting on my face, I don't want my makeup to just quickly fade away within hours! I've found the best way to keep everything intact is to use a setting spray to seal in the makeup.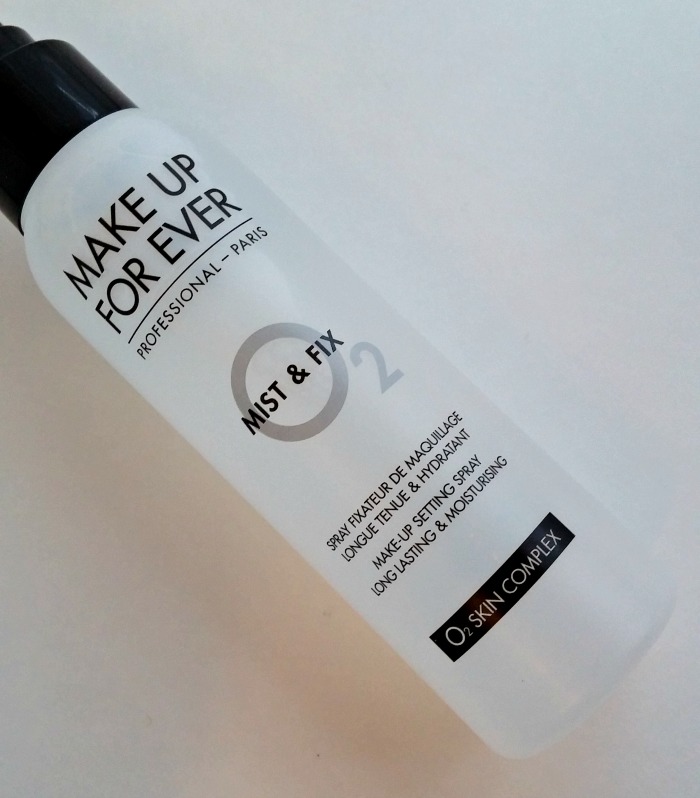 The Mist & Fix coats the skin with a weightless and invisible film to allow makeup to last for up to 12 hours. Its unique alcohol-free formula doesn't dry out the skin but actually increases hydration by 40% after 2 hours! The spray works after your foundation application or  you can also use it after you finish applying all your makeup.
Lancôme City Miracle CC Cream
As BB Creams move over, CC Creams (Color Corrector) come into play. They provide a healthy glow and even out skin's complexion while protecting against UV rays. City Miracle CC Cream Color Corrector Daily Defense Case SPF 50 is a rich formula with glycerin to leave skin feeling soft and hydrated. It has coated mineral pigments that melt into the skin for a radiant glow, but also covers imperfections as it color corrects. It evens out like a foundation, perfects like a beautifier, hydrates like a moisturizer, protects like a sunscreen and fights shine like a powder.  It's pretty much the superhero of multi-tasking products!
It comes in three different shades and I tested out 02 (Peau de Peche – to warm Caucasian skin with a natural healthy glow). I am not Caucasian and surprisingly, when I put some of the product on the back of my hand, I felt that it was too dark but when I applied it to my face with a stipple brush and worked the product in, it blended into a healthy glow. It's the perfect product for this time of the year when I don't have a base tan and need all the help I can get to look less ghost-like. I love the natural-looking finish and glow and also the fact that it has SPF 50. As I am getting older, I try to ensure that at least one of my facial products has SPF in it.
So there you have it – my current faves and products that are in my current beauty rotation.
We'd love to hear what your favourite products are!
Share on social: