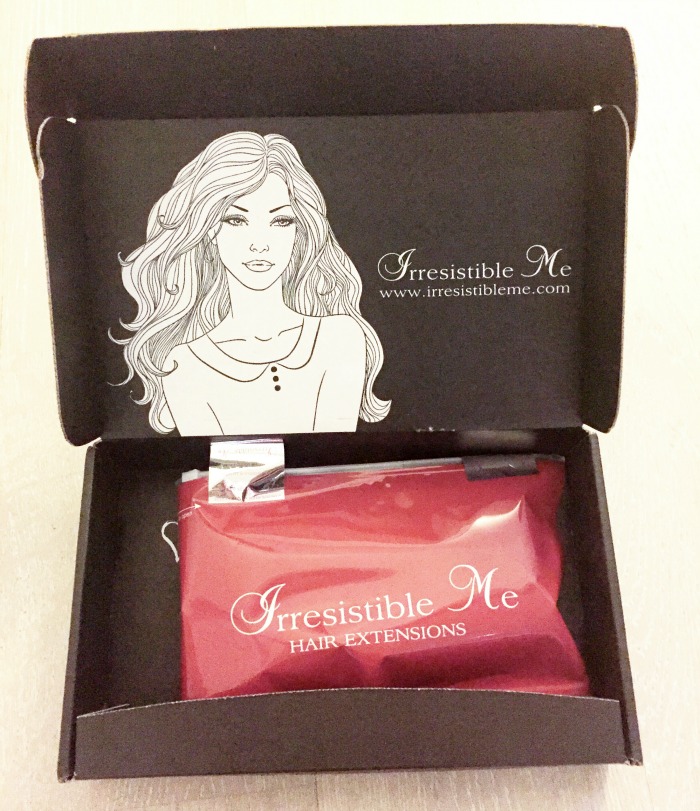 {Faking Volume with Irresistible Me Hair Extensions}
With Valentine's approaching you may be experimenting with new looks. I've always loved the look of full and big hair, and as a girl born with stick straight hair, I have always longed for volume. I've had my hair very long before but I could never get the true volume I have dreamed of. I had never tried
hair extensions
before and I thought that clip-ins would be a great start. Through
Irresistible Me
, I was given the opportunity to try out some clip-in extensions from their Silky Touch line. Here are some features of the line:
Made from 100% Indian Remy Human Hair
Can be easily washed, heat styled, cut and coloured
Great for volume and length
Perfect for special events
When considering hair extensions it's important to figure out your needs and lifestyle. The main choices you'll have to make when choosing extensions are:
Type of hair extensions
Colour
Length
Weight
Since this was my first time using hair extensions I decided to go with the "Silky Touch Line" since it was recommended for those just starting out.  My hair right now is a dark brown with some left-over ombre from last year, so it's a slightly lighter shade at the ends. Since I knew I wouldn't have the ombre look forever, I decided to choose a colour that would match my natural colour and went with Silky Chocolate Brown #2. The next choice I had to make was the length. At the time I was aiming to receive the extensions, I had shoulder length hair so I went with 18″ length. Lastly, since I lack volume in my hair, I opted for the heaviest weight – 200g – which includes 10 pieces (or wefts). Each weft has a number of clips attached to the hair depending on the width of each piece and the thickness of each clip decreases slowly towards the ends of the hair which mimics the look of natural, layered hair.
 Included in my package was:
1 weft with 4 clips – 7.5″

2 wefts with 3 clips – 6″

5 wefts of 2 clips – 4″

2 wefts of 1 clip – 1.2″

Tester weft
When you receive the package, all the pieces come on one side with the exception of one weft with 1 clip. This is the tester weft to determine if the colour you chose matches your hair. The colour I chose matched my natural hair colour perfectly, but I appreciated the tester weft  that came with the package. If the shade isn't correct then you can return the package. Also, since it's 100% human hair you can always get it dyed to match your hair perfectly.
Attaching the clips to your own hair is easy, but if you have very slippery hair like I do, try teasing the hair you're going to attach the clip to as it gives a better grip for the clip to hold. I only ended up using 7 of the wefts because my hair was already looking pretty massive. The ones that I didn't use were one of the 2 clip weft and both 1 clip weft.

You can see that since I still have remnants of the ombre colour,  the extensions don't blend seamlessly. If my hair was all dark brown, leaving everything straight would look fine, although I felt that the clips were noticeable. Curling the hair seems to make them blend a bit better but they didn't curl as easily as I expected them too – perhaps I just needed a bit more practice with this texture of hair or perhaps it was the fact that the hair was virgin hair and had never been exposed to heat styling before.
After a bit of experimenting, I decided to clip the extensions lower on my hair to add length and wore my hair in a wavy style by curling only a few pieces here and there. I personally preferred this look better.
I also experimented with clipping in the extensions and putting all my hair up in a ponytail.  I loved how voluminous it looked! I think it will look even better once I dye my hair back to its natural colour.
I have to admit, since this was my first time wearing hair extensions and because my hair is thin I was paranoid that others could see the clip-ins. If it's your first time using clip in hair extensions I would  recommend doing what I did: wear them for a night event first when it's darker and more forgiving until you perfect clipping them in and styling them for your own hair.
While I loved the volume these extensions added to my thin locks and loved how easy they were to clip in, I'm still undecided as to whether they suit my personal lifestyle. But if you're looking to try extensions out for the first time then the Irresistible Me Extensions in the Silky Touch line is a great option.
Have you tried out hair extensions before? We'd love to hear your experiences, and let us know what you thought about our Irresistible Me Extensions review in the comments below!
Share on social: