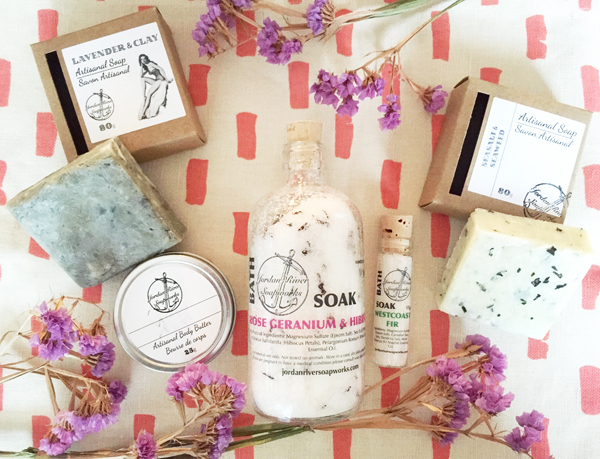 I have a soft spot for indie beauty brands. With their commitment to using good-for-you ingredients and the exceptional love and care they put into each and every product, it's not surprising that the quality of their products can often outshine that of big labels. I'm always excited to discover new Canadian indie natural beauty brands, and Jordan River Soapworks is my latest revelation on that front.
Founded by Candice Suchocki Weir, Jordon River Soapworks specializes in artisanal, 100% natural bath and beauty products, all which are made by hand in micro batches on the west coast of Vancouver Island. Most of their ingredients are organic and are sourced locally wherever possible. The company is also against animal testing, and its products are certified cruelty-free under the CCIC Leaping Bunny Program.
The Artisanal Soaps are their signature products. I've been using the Lavender & Clay Artisanal Soap ($12) and the Sea Salt & Seaweed Artisanal Soap ($12) and have been absolutely loving both of them. I rarely use soaps to wash my face and usually opt for foaming face wash type products. But reading these soaps' super simple ingredient lists with good, all-natural ingredients made me want to try them for my daily cleansing regimen. All of the soaps are made with a base of high quality organic olive oil and organic coconut oil. They don't contain any conventional foaming agents such as sodium lauryl sulfate as well as petrochemicals or other harsh, skin-irritating ingredients, which are found in commercial soaps. They lather up beautifully and leave my skin feeling clean without drying it out. My skin has been abnormally reactive these days, and I've been breaking out quite a bit (it's probably due to stress). Since introducing these soaps into my daily skincare routine, my skin has calmed down noticeably. It could be the glacial marine clay in the Lavender & Clay Artisanal Soap or the combination of sea salt and kelp in the Sea Salt & Seaweed Artisanal Soap. Whatever it is, my skin is loving them, and I know that I'll be buying these soaps as soon as these are used up. They also come in a cute box with a little Canadian flag stamped on the back, so they'll make great gifts as well.
The artisanal bath soak is another signature product of Jordan River Soapworks, and it comes in a few different scents. I tried the Rose Geranium & Hibiscus Artisanal Bath Soak and the West Coast Fir Artisanal Bath Soak (from $7). All of their bath soak products are made with a base of epsom salt and sea salt. Jodran River Soapworks has partnered with a local sea salt harvester to create the highest quality hand-blended bath soaks made with hand-harvested sea salt. I love taking epsom salt baths whenever my body is sore or when it could use a little bit of detox, so I've been really enjoying these products. Rose geranium and pine or eucalyptus-like scents happen to be two of my favourite scents, so these bath soaks have made my bath time even more delightful!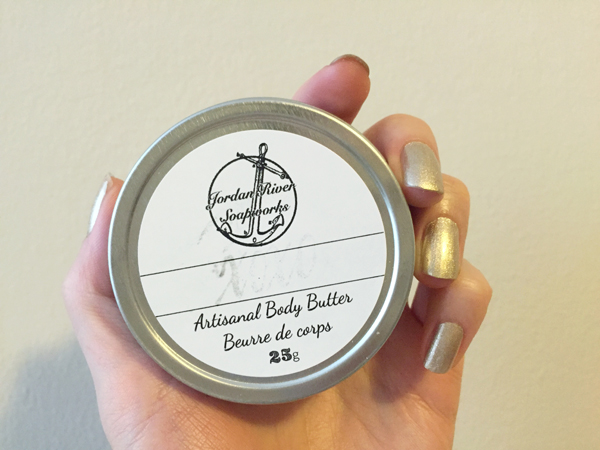 I'd also like to tell you about the XOXO Artisanal Body Butter (from $16). It's called body butter, but it's really an all-purpose salve for dry skin. It only contains 3 ingredients: organic coconut oil, organic shea butter, and locally sourced beeswax from British Columbia. This specific body butter is unscented, but they also offer other "scented" options, which contain natural essential oils. I've been literally using this product everywhere, from my hands and lips to my feet. It's super moisturizing and is perfect for chapped lips, dry heels, and any other dry spots.
Before I started writing this, I was browsing on Jordan River Soapworks' website and stumbled upon the brand's blog. There are blog posts featuring interviews with the local harvesters of sea salt and seaweed, which I found very interesting. Those of you who are interested in natural, sustainable ingredients might want to check them out too. They offer in-depth information about how the ingredients are harvested and what kind of benefits they offer. They also show the company's dedication to using locally sourced ingredients in order to offer the freshest, most effective products to its customers as well as to support local businesses.
Most of Jordan River Soapworks' products come in a couple of different sizes, so they make great gifts for any occasions. They will be perfect as stocking stuffers too!
Share on social: