I like simplicity, especially when it comes to manicures. Elaborate nail art or professional gels are not my thing. I prefer plain nude or one-colour nails, and I usually do them myself. It's a very simple procedure that involves a little bit of filing and buffing then applying two coats of nail polish and a swipe of top coat. My nails may not look perfectly done, but I find this procedure calming and therapeutic. After a long day of work, I do my own nails while watching (but not really watching) a TV show to de-stress and relax.
My least favourite part of doing nails at home is waiting for polishes to dry. I used to apply them at night right before going to bed, but after waking up with sheet and hair marks all over my nails a few times, I learned that it's probably not the best strategy. Waiting around for nail polish to dry is no fun, so I'm always on the lookout for fast-drying, easy-to-apply ones.
Elaine introduced me to Sally Hansen's nail polishes, and I have to say, I've become a huge fan. I've tried a few shades from the brand's Miracle Gel line and its Complete Salon Manicure line, and I'm impressed by their fast-drying, high-shine formula as well as by their richly pigmented colours.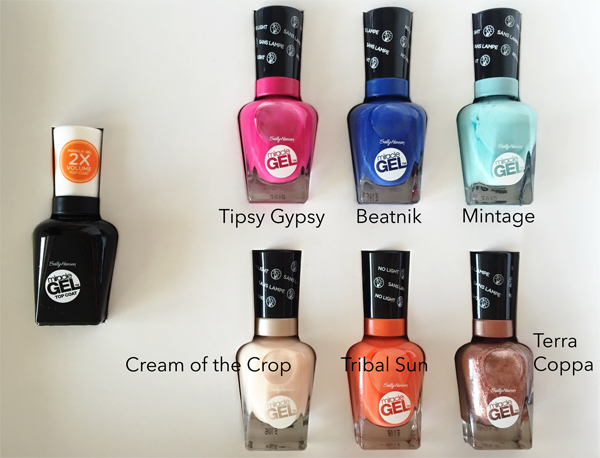 Sally Hansen Miracle Gel provides a 2-step gel manicure system, which consists of Miracle Gel Colour ($10.99) and Miracle Gel Top Coat ($10.99). It's the only gel manicure system that cures without LED or UV light and removes with a swipe of regular nail polish remover. Applied with the top coat, the Miracle Gel polishes are designed to last up to 14 days, providing gorgeous colours and a mirror-like shine. I think that Sally Hansen Miracle Gel is amazing; the polishes are easy to apply, highly pigmented, fast-drying, and long-lasting. I also love the fail-proof round brushes, and there are so many beautiful shades to choose from (over 45 shades!). I also have to tell you how much I've been loving the Miracle Gel Top Coat. It dries nice and quick while creating a high-gloss, mirror-like finish. It's designed to deliver 2 times the volume to your manicure, creating dramatically fuller-looking nails. It has become my go-to, and I've stopped using all other top coats that I have (3 other top coats are currently collecting dust on my vanity).
These are the new 2015 fall colours from Sally Hansen's Complete Salon Manicure line. These polishes ($9.50) are formulated to act as a base coat, a strengthener, a growth treatment, a salon-inspired colour, and a top coat while providing chip-resistance and a gel finish, all in 1 bottle. It also has the same round precision brush, which I find very helpful in preventing streaks and bubbles. The shades I received are all very gorgeous, and several of them have become my favourite fall colours.
I recently got into using two different colours on nails and have been experimenting with various shades from these two Sally Hansen lines. The fun cheery colours from Miracle Gel's 2015 summer lineup and the rich, subdued shades from Complete Salon Manicure's 2015 fall lineup can be mixed together to create some fun combinations! It's sort of perfect for this time of the year when we're transitioning from summer into fall; you can have the best of both worlds just like layering your favourite half sleeve T-shirt with that fall jacket and scarf you adore!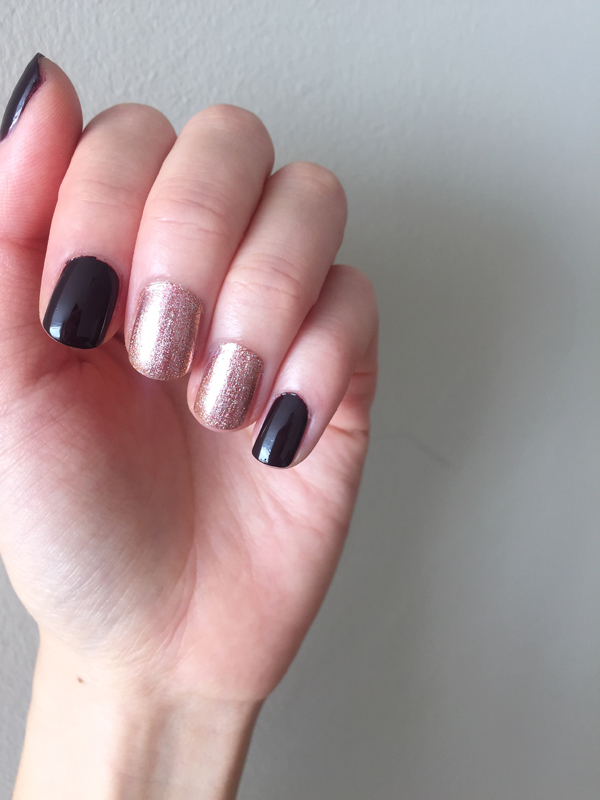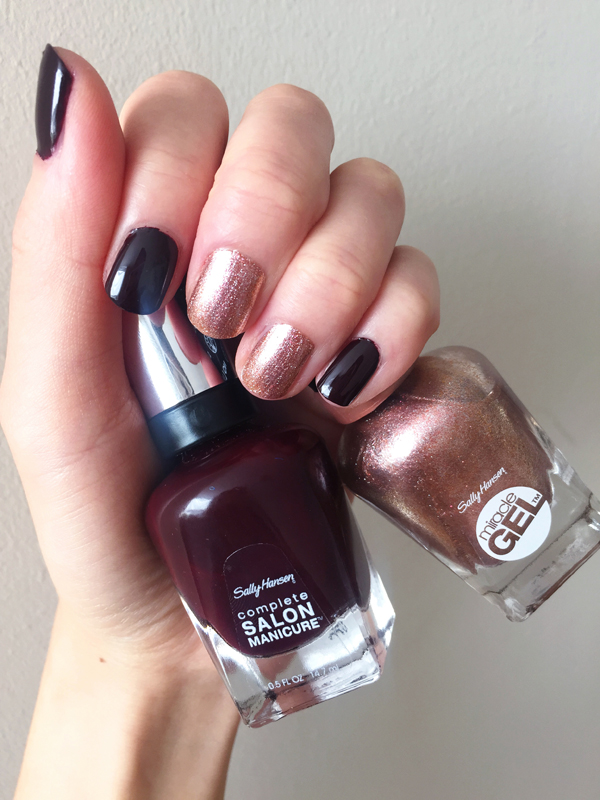 This is my favourite colour combination of the moment: The gorgeous dark cherry red shade is Rags to Riches from Complete Salon Manicure's 2015 fall lineup, and the dazzling bronze metallic colour is Terra Coppa from Miracle Gel's 2015 summer lineup.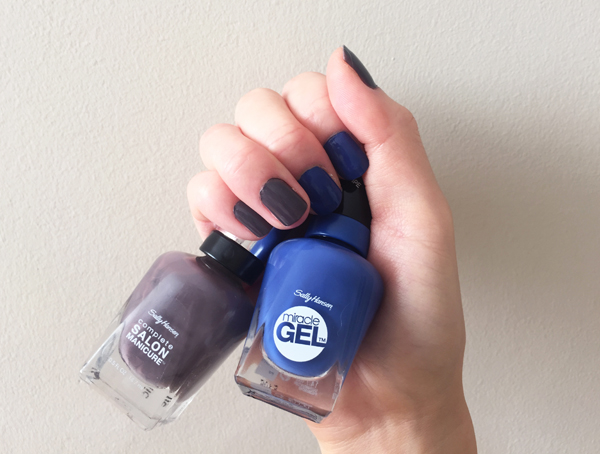 Here's another combination that I adore: The dark mauve grey is Talk is Chic from Complete Salon Manicure's 2015 fall line up, and the cobalt blue is Beatnik from Miracle Gel's 2015 summer lineup.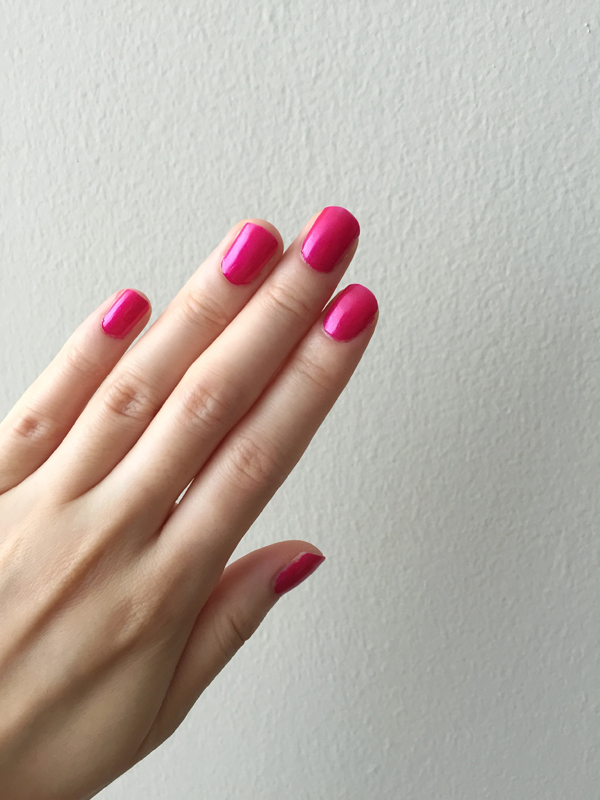 Last but not least, this is one of Complete Salon Manicure's new fall colours called Damsel in Success. When I first saw this shade, I didn't think that I would end up using it because I rarely wear pink or fuchsia on my nails. Nevertheless, I tried it on just for fun and started loving it. Yes, It's really really pink (it screams fuchsia!), but I think it's a great statement colour that will complement any black, grey, and white outfits. And the best part is that it'll put you in a happy cheery mood!
What shades are you gravitating towards during this transitional time of year?
Share on social: