The trend of beards is not only popular among the hipsters –  you see many Bay Street men sporting a beard/mustache or trimmed face-scaping (as I like to call it). If men are going to have some  kind of scruff or a beard, it MUST be maintained or it ends up looking unattractive and just plain old dirty. Skin under the facial hair must also be well-kept; once the trend of beards and mustaches ends, you don't want your man left with bad skin that was hidden under all that hair!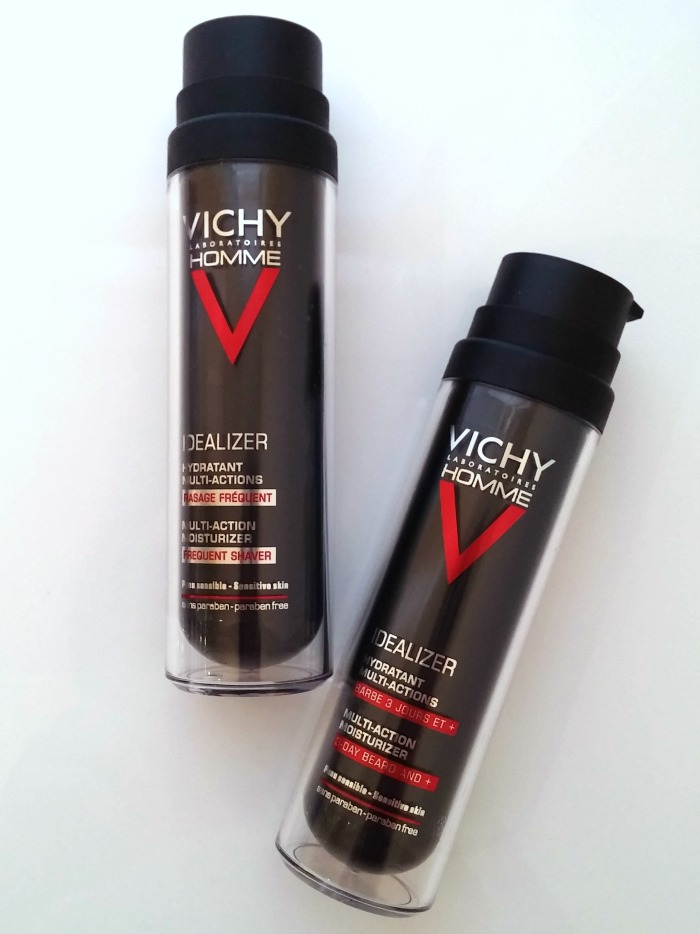 Facial skin under that hair needs to be hydrated which also helps prevent the signs of aging. Vichy has launched great, new products for men – Vichy Homme Idealizer for the frequent shaver and beard wearer. These multi-action moisturizers are made specifically to work with men's shaving habits. The Frequent Shaver protects sensitive skin against irritation, redness and razor bumps; while the 3-day Beard and + treats the skin and beard reducing dryness, flakes and roughness, without leaving a creamy residue in the beard.
Both products have active ingredients such as Hyaluronic acid, Adenosine, Caffeine, Taurine and Salicylic Acid – they work together to reduce dark circles, puffiness and wrinkles, and also damage caused by free radicals. The combination of ingredients also protects the skin from inflammation while exfoliating, leaving the skin feeling softer and smoother.
Frequent Shaver
Intensely hydrates
Minimizes signs of fatigue
Reduces signs of aging
Soothes irritations
Facilitates

the next day's

 shave
This gel cream contains glycerin which is quickly absorbed and leaves the skin soft, smooth and ready for the next shave. After 4 weeks, irritation caused by shaving is reduced and the skin is smoother making shaving much easier. The specific active ingredient in this product is Calmosensine which reduces skin irritation and limits inflammation.
3 Day Beard and +
Intensely hydrates
Minimizes signs of fatigue
Reduces signs of aging
Softens & clarifies beard
Prevents flakes
This light, non-greasy, non-sticky, non-shiny formula is easily absorbed without leaving any residue in the beard. After 4 weeks the beard is softer, the skin beneath the beard is better moisturized, and skin looks less tired. The specific active ingredients are Aquabioryl (provides long-lasting hydration) and waxes (to coat and add moisture for a more supple, well-groomed beard).
Since guys aren't into reading what's in their skincare and what it does for them (let's face it, most guys don't know whether their skin is oily or dry), Elaine and I asked my husband, Mike to test out these two products to get a man's perspective.
I'm a fan of the 3 Day Beard and + despite the fact I don't have a beard (does a goatee count?). Alysia tells me I have oily skin so the non-shiny formula apparently helps keeps my pores at bay without feeling greasy. It did wonders for me throughout the winter months. If you have drier skin, you may need to add more. The gel cream in the Frequent Shaver didn't penetrate as much and just felt heavy.
There you have it, a men's product that is quite useful and beneficial for the man in your life, especially if he sports a beard. This may be a great gift with Father's Day around the corner. Sometimes, men just need you to buy them what they really need.
Do you know a guy that could use these products? 
Share on social: